Joden Girl
Baubles, Bling, and A Collector's Things
Retro rings are big and bold.  These ornate beauties often feature large colored stones like aquamarine or citrine accented by small rubies and diamonds.  Often, the jewelry of the 1940's is created from rose gold with wide expanses of high-polished shine.  
This sweet little beauty is an unusual find from the World War II era.  Made from 14 karat rosy gold, this ring offers Retro appeal in miniature form.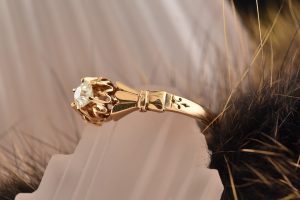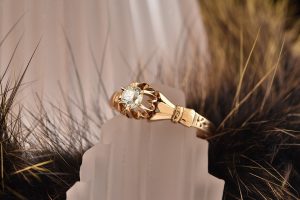 Beginning midway down the shank of the ring, you will notice a stylized fleur de lis etched deep into the metal.  The lines of the ring flare in and out gracefully.  Just beneath the center section on each side is a trumpet bell that splays out in three elegant lines.  The two trumpet bells create a perfect haven for a six-pronged buttercup setting.  Cradled within the buttercup is one European Cut Diamond that weighs .20 carat.  Small but mighty, this little diamond glitters from every angle.  
The entire ring is high polished, the glistening gold is the ideal complement to the diamond center. If you love the style of Retro and appreciate dainty rings, this is the piece for you.  Available in Joe's Special Box, this ring is priced at $480.  
"You can go to a museum and look or come to us and touch."
Written by Carrie Martin
Photos by Dana Jerpe