Joden Girl
Baubles, Bling and A Navette Ring
Navette-shaped rings have been beloved since the Victorian era.  The elongated marquise outline runs parallel to the finger with elegant appeal.  This pointed oval complements every hand and can be worn on any finger from the pointer to the pinky.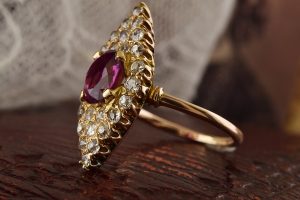 The origin of the word navette is French and dates to the early 1900's; it translates to "little ship".  The title is accurate as this favored style does indeed mimic the form of a small water vessel.  These rings are always longer than they are wide with pointed ends and curved sides.  Often, they can reach from knuckle to knuckle.  This particular gem measures about an inch from top to bottom and is made from a rosy 14 karat gold.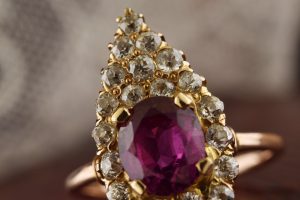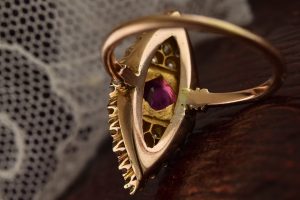 There are twenty six Old Mine Cut diamonds that create the overall shape of the piece.  Each of these sparkling beauties is held in place by claw-shaped prongs.  Old Mine Cut diamonds were the most popular and common cut during the 18th and 19th centuries.  This cut offers a squarish form with a small table, large culet and a high crown.  Here, these twenty-six stones have a combined total weight of 1.50 carats that glitter in the light and provide a bright and stunning contrast to the deep tone of the center stone.  An oval-cushion shaped natural ruby is seated center stage.  Nestled among the diamonds, this gem is rich and bold.  Presenting in the color of a purplish red claret, the ruby weighs approximately 1.40 carats.  It fills the center of the ring to perfection.
Representing everything that a classic navette ring should be, this beauty is large and colorful with a cluster of gemstones.  It's a true statement piece that will quickly become your signature ring.  With a true vintage vibe that evokes the past, this ring was made near the end of the Victorian era, Circa 1890.   It's available for just $4,850.00 – a real steal.  If you've been wanting to get into shape – perhaps navette is the way to go.  
Written by Carrie Martin
Photos by Dana Jerpe