Joden Girl
Baubles, Bling and Carved Rings
Recently, I heard a young lady tell her beau "Hold the ring in your hand…  if you can't even tell it's there, it's not the right ring."  While I may not always agree with that, I can certainly understand what she meant.  Intricately carved from half an ounce of platinum, this patterned pair exudes quality.  
Just look at this bridal suite, shown here in profile. These are rings of distinction.  Each one features softly rounded edges that provide a truly comfortable fit.  I love the contrast between those smooth polished sides and the etched surface.  My favorite detail has to be the tiny twist of gold wire that sits below the center diamond…  still visible even when the rings are nestled side by side.  I love that little pop of color!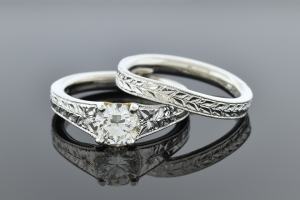 A singular round brilliant diamond winks from the center of the engagement ring.  Held in place by four stout prongs, this diamond weighs .91 carat.  It sparkles and shines from every angle.  This diamond and pair of rings has been certified by the International Gemological Institute of America.  They have been valued at $12,015.00.  We have them available now on our site for just $8,960.00 (a savings of over 25%)!  
These and many others can be found at www.joden.com.  Check it out now, and as always…
"You can go to a museum and look, or come to Joden and touch."
Written by Carrie Martin
Photos by Shelly Isacco