Joden Girl
Baubles, Bling and Sparkly Things
"Stop and smell the roses"…  Isn't that how the old saying goes?  Who wouldn't take time for this beauty?  Like the petals of a flower, this ring has layers of rich detail…  each one more captivating than the last.
Let's start with that cushion shaped halo…  arguably the most iconic element of engagement ring trends for more than five years running.  This particular one cradles a 1.75 carat diamond.  Laboratory graded as J-K in color, and VS in clarity, this stone hits the sweet spot where beauty and value come together.  The International Gemological Institute of America has appraised the ring at over $23,000.  Go to our site and check out the special pricing!  You won't be disappointed, I promise!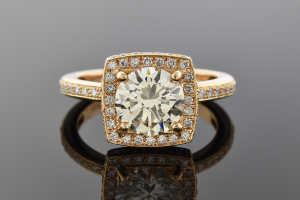 The ring itself is made entirely of 18 karat rose gold…  the subtle pink tone of the metal highlights the eighty-eight fully faceted diamonds that are nestled into every nook and cranny.  These diamonds have a combined weight of .70 carats, bringing the total diamond weight of the ring to 2.45 carats!   
My favorite element of the ring has to be the contrast of the round diamond center in the squarish halo.  It's an unexpected twist that really works.  Modern style meets classic elegance!  As always… 
Go to our site and look, then come to Joden and touch.
Written by Carrie Martin
Photos by Shelly Isacco