Joden Girl
Baubles, Bling, and a Sparkly Ring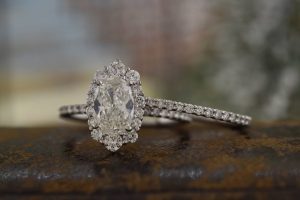 Jewelry trends and styles come and go with the seasons – usually that includes engagement rings.  However, halos have reigned supreme for the last ten years or more!  For those who don't know, the halo design incorporates a tiny ring of diamonds that encircle the center stone.  It highlights the diamond and makes it look larger!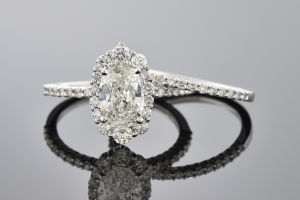 This stunning set just might be my favorite halo EVER!  The focal point of the ring is a 1.01 carat oval brilliant diamond.  Surrounding it are 14 round brilliant diamonds in alternating sizes…  the unique alignment of these stones creates an elongated elegant flair that has captivated me.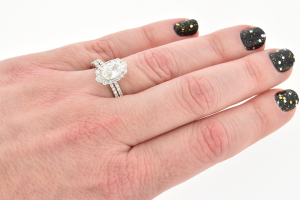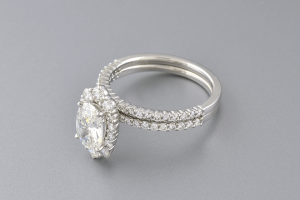 Just look at the impact of the ring on the hand – it really makes quite an impression!  And it is accompanied by a matching diamond band.  Smart styling allows for the pair to sit perfectly snug without any contouring.  For me, that's an important point…  the wedding band can be worn by itself.  On the weekends, I simplify my look by just wearing my band – a convenience that I love!
This exceptional set is crafted from 14 karat white gold and features a total diamond weight of 1.77 carats!  Available on our site or in our showroom for just $7650.00 – it's a must-have!
"Go to our site and look, then come to Joden and try it for yourself!"
Written by Carrie Martin
Photos by Shelly Isacco