Joden Girl
Baubles, Bling and the Latest Things
Marking the close of the pre-Lenten season, Mardi Gras (Fat Tuesday) honors the custom of using up all the fats in the home to prepare for fasting during Lent.  In the United States, New Orleans is the center of these festivities.  Honoring French heritage, the fleur de lis is showcased on everything in the city.  Today, on the eve of Mardi Gras 2023, it seems appropriate to celebrate the occasion with this authentic antique beauty.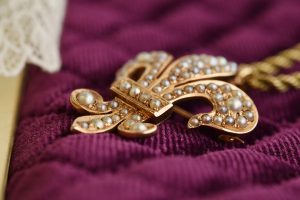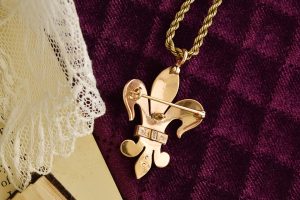 French for flower of the lily, the fleur-de-lis  has been intricately woven into the history of Louisiana and New Orleans.  Nearly 350 years ago in 1682, René-Robert Cavalier planted a fleur-de-lis emblazoned flag at the mouth of the Mississippi River – naming the entire basin "La Louisiana".  With this one act, he forever tied this royal French symbol with the area.  
Having long been the symbol of New Orleans, in 2008, it was also adopted as the official symbol of the state of Louisiana.  Our fleur-de-lis is a lovely pin/pendant combination and it slides on a 16-inch rope chain.  Although neither piece is hallmarked in any way, both test as 14-karat gold.  Each frond of this three-leaved flower is accented with tiny seed pearls – seventy in all.  Showcasing hues in shades of cream, gray and a pale-lavender color, these tiny gems are an ideal complement to the rosy tone of the gold.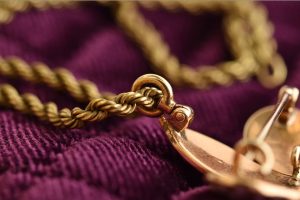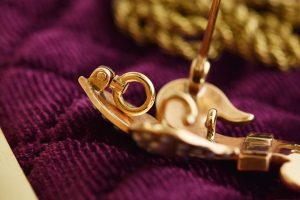 Not just aesthetically pleasing, this gem is also mechanically beautiful.  The pendant loop swivels on a clever hinge – allowing it to be tucked neatly away when wearing the piece as a pin.  Additionally, the catch for the pin stem is a simple stylized "C" shape – a trademark of the Victorian era.  Moderately priced at $1,750.00 – this beauty arrived just in time for Mardi Gras.  Celebrate the holiday by making it yours today.
"You can go to a museum and look, or come to us and touch."
Written by Carrie Martin
Photos by Dana Jerpe