Joden Girl
Baubles, Bling and Twinning Things
In 2023 in the United States, most Americans subscribe to the "bigger is better" philosophy of life.  Whether we're talking about the size of our homes and our cars or even something as simple as the length of our eyelashes – it seems like the vast majority of us equate size with quality.  We work harder and longer to be able to achieve a coveted super-sized lifestyle complete with a 4000 square-foot house, a land yacht of an SUV and of course – all the bling to go with it!  We're obsessed with size.  When the dust settles, I have to wonder…  is bigger really better? 
To help answer that very question, we have a visual aid.  This pair of rings are nearly identical.  They're both Victorian and both are made from 18-karat yellow gold.  These half hoop style rings feature five cabochon oval opals in graduating sizes.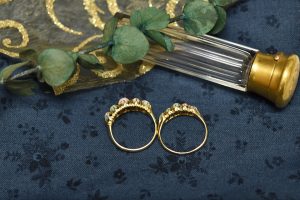 Shown from the edge, you can see the claw-like prongs that hold each fiery opal in place.  The condition of these 19th century beauties is superb…  not a single cracked, chipped or broken stone.  Every prong is intact.  There's just one visible difference – one ring is bigger than the other.  
The larger of the two rings has a series of hallmarks inside the band.  A tiny crown with an 18 notes the fineness of the metal.  A sideways anchor is the symbol of the Birmingham Assay Office.  And finally, a stylized "X" reveals that the ring was crafted between 1897-1898.  The five opals in this antique charmer have a combined weight of approximately 2.40 carats that shimmer and sparkle in shades of blue, green, orange and red.  It's priced at just $1,600.00.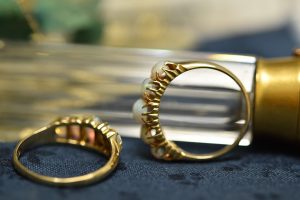 The smaller of the two also showcases hallmarks inside the band.  There is a simple "18" that references the quality of the metal.  Then there is an "A & W' – this is the mark of Alabaster & Wilson.  More specifically, Arthur Alabaster and Thomas Wilson.  These two gentlemen founded their jewelry firm in the Jewelry Quarter in Birmingham in 1887, quickly becoming known for fine quality and timeless style.  Five opals span the top of this petite dazzler with a total weight of 1.00 carat… less than half of the larger ring.  It's priced at $1,300.00.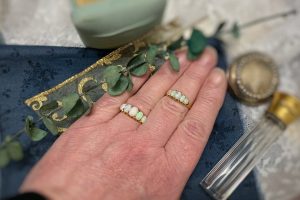 Shown on the hand, both rings are equally striking…  and so, I'm still seeking the answer to that age old question.  Is bigger really better?  Which would you choose – this larger opal ring or that smaller opal ring?  This or that?  
"You can go to a museum and look, or come to us and touch."
Written by Carrie Martin
Photos by Dana Jerpe