Joden Girl
Baubles, Bling and the Latest Things
One of the best parts of my job is that there is always something new to learn.  Before writing the blog each week, I consult with Joe or Jay.  We chat about the pieces… why I selected them, important details, any background information and the selling price.  
Today, I held up the small plastic bag with these cool modern earrings inside.  Jay glanced at them and said in an offhand way…  "Oh yeah… those antique poker chip earrings."  Um, what?  With just a few quick keystrokes, Jay was able to show me exactly what he was talking about.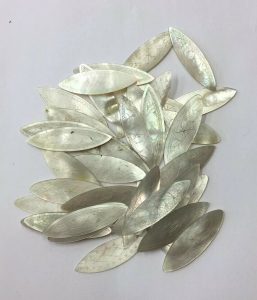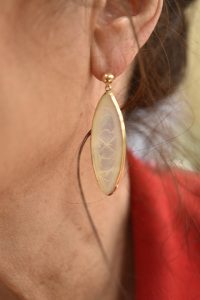 In the early 19th century, Chinese artisans carved mother-of-pearl pieces to be sold to Britain.  There were ovals, circles, rectangles and even fish shapes.  With a myriad of sizes and designs to denote different denominations, these counters were used for gambling.  In more recent years, these unique and unusual tokens were converted into jewelry.  So cool.  I absolutely love learning new things!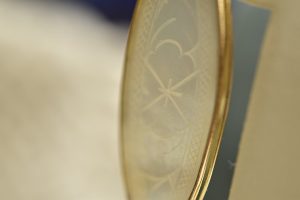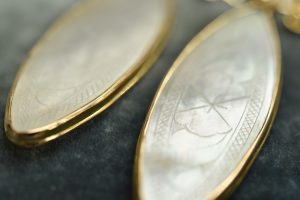 Initially, I was drawn to the simplistic shape and sleek design.  These marquise slices of iridescent shell have a simple low-relief pattern etched into the surface.  It's carved on both the front and the back, making the earrings lovely from every angle.  A 14-karat yellow gold bezel encapsulates the outer rim of the shell.  The entire piece dangles from a small round gold bead.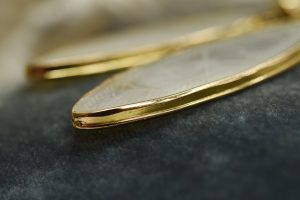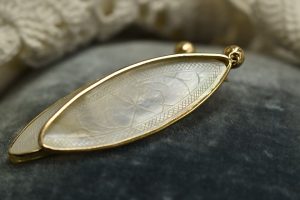 Lightweight and easy to wear, these earrings are the perfect accessory.  Priced at just $550, they offer a big look for a little bit of money.  Check them out in the store today.
"You can go to a museum and look, or come to us and touch."
Written by Carrie Martin
Photos by Dana Jerpe