Joden Girl
Baubles, Bling and the Latest Things
We're already seeing trends for the 2022 holiday shopping season.  The most requested gifts have been gold chains, diamond earrings and colorful gemstone rings.  Our cases are overflowing with a stellar selection of all of these things and so much more.  Jewelry is on everyone's wish list…  but don't wait for Santa.  Come to Joden Jewelers – it's the place where dreams come true.
If you're craving a pop of color, this latest addition to our estate department is the perfect treat.  Made from 18-karat yellow gold, this band has so much to offer.  Spanning the top half of the ring are rectangular blue sapphires.  Bright in color, these twelve gems have a combined weight of 2.00 carats.  They are channel set between four rows of pavé-set round brilliant diamonds.  These forty-four diamonds add 1.00 carat of dazzling sparkle to this eye-catching band.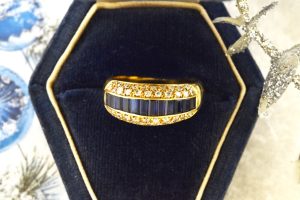 This ring plays well with others but is also more than capable of standing on its own.  Relatively low profile and silky smooth on the finger, this band is comfortable and a joy to wear.  As I write this, I am watching the light bounce off of each stone…  I'm wearing it, of course.  
It has real presence on the hand without being ostentatious.  If you love the classic combination of blue sapphires, colorless diamonds and high karat gold…  this is the piece for you.  Check it on in the store today.  It's going to be on our website soon for just $1900.00.  If it lasts that long!
"You can go to a museum and look or come to us and touch."
Written by Carrie Martin
Photos by Dana Jerpe