Joden Girl
Baubles, Bling, and Complementary Rings
Matching wedding bands… is that even a thing anymore?  To be honest, I think the last pair I sold were from an earlier edition of this blog…  His and Hers – Volume Three.  I wrote that piece over three years ago about a wonderfully romantic pair of gleaming gold bands from 1907.  I was completely smitten with the initials and dates engraved inside those antique beauties – and I was delighted when a couple of longtime customers purchased them.  I knew that Chad and Paige would treasure them as much if not more than I did.
I find myself feeling sad that I cannot think of another pair of matching bands that I have sold since then…  it's such a romantic tradition.  It's a visual connection – a symbol of promises made.  A close second to matching bands are rings that are complementary, like these…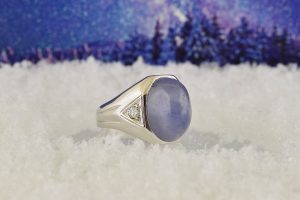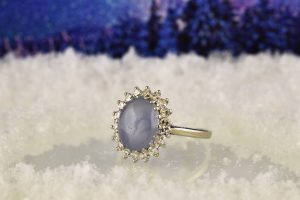 While they are not exactly alike, there's no denying the similarities.  "His" ring is made from 14-karat white gold featuring a natural star sapphire as the center stone.  Artfully sculpted into a tall cabochon, this shimmery pastel blue stone weighs approximately 20.00 carats.  Perfectly fitted into each shoulder is an engraved triangle that is set with a round diamond.  These two diamonds have a combined weight of .30 carat.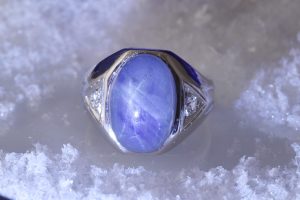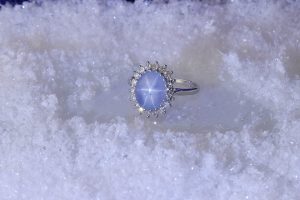 "Her" ring is made from 18-karat white gold with a cabochon oval star sapphire in the center.  More gray than blue, this silky stone weighs approximately 4.25 carats.  It is completely surrounded by a halo of single-cut diamonds.  These eighteen sparklers have a combined weight of .66 carat.  Both sapphires showcase the mystical phenomenon known as asterism.  When the small needle-like inclusions align and intersect, they produce a star.  Tilting and rotating these unusual gemstones in direct light allow the stars to truly shine.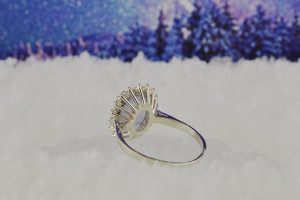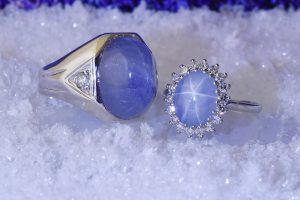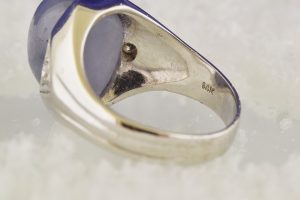 "His" ring is moderately priced at $2,875.00 while "Her" ring is available for just $1,450.00.  Together, this dynamic duo are an excellent choice for wedding rings, anniversary rings, or just because rings.  They may not be matching, but they are ideal complements for each other.  If you've fallen under the spell of these glimmering stars, give us a call to make them yours.
"You can go to a museum and look, or you can come to us and touch."
Written by Carrie Martin
Photos by Dana Jerpe