Joden Girl
Baubles, Bling and Porcelain Things
Since 1759, Wedgwood finery has been gracing tables with their signature style.  Founded by Josiah Wedgwood, this exemplary company began by offering the finest in luxury china.  By 1769, the catalog had expanded to include small jewelry items like rings and seals that featured intaglios – a carved image in which the picture is recessed into the surface of the stone.  Blown away by the popularity of these tiny treasures, the 1779 catalog grew yet again and showcased a more extensive jewelry line, incorporating buttons, lockets and bracelets.  These new additions offered a fresh take on the traditional feel of the Wedgwood brand – cameos.  This artform is done in high relief, where the intricate image raises off the surface of the background in a multi-dimensional way.  Jasperware is the most popular line and the Wedgwood blue and white color palette has become synonymous with the iconic brand.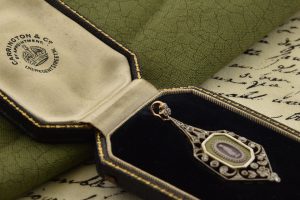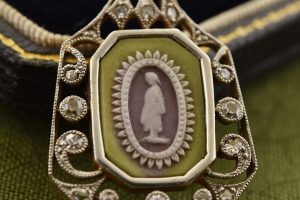 This Edwardian pendant features a rare Wedgwood image – with a trio of color.  An olive green background provides a subtle pop of color for the purplish grey and white cameo-style carving.  The figure depicts a young girl standing in profile.  Expertly fitted into the original leather case, this turn of the century pendant has so much more to offer.  Hand-fashioned in a mirror shape, the platinum-topped yellow gold framework is a masterpiece of filigree and diamonds.  Thirty-three old cut diamonds are nestled into each curlicue.  Delicate milgrain beading adds to the overall ambiance of the pendant.  Priced at $3,650 – this antique beauty looks great in the box but would be outstanding on the neck.  
This sweet little ring is a modern example of the work still being produced by the Wedgwood company, now known as WWRD for Wedgwood, Waterford and Royal Dalton.  This Jasperware scene is made from classic biscuit porcelain (an unglazed, ready to wear variety) in Wedgwood blue and white.  A winged angel offers the sweetest image on this 14 karat yellow gold ring.  A tiny four-petaled flower adds just a bit of decor to the otherwise plain shank.  The oval shape of the ring harkens back to the original neo-classic style that the Wedgwood brand is famous for.  Available for just $235, this perfectly petite piece is too good to miss.
From the very affordable to moderately luxurious, these two Wedgwood pieces are truly something special.  Give us a call at 800-747-7552 to make one yours today.
"You can go to a museum and look, or come to us and touch."
Written by Carrie Martin
Photos by Dana Jerpe