Joden Girl
Baubles, Bling, and A Collector's Things
There's no doubt – when most people think about antique jewelry, the style that comes to mind is white gold filigree.  More often than not, it's an Edwardian or Art Deco ring.  However, some of the finest and most beautiful pieces that were created in the first three decades of the 20th century were not rings.  The 1930's gave us some truly iconic arm candy…  I'm not talking about Fred Astaire or Humphrey Bogart, but rather this pair of stunning bracelets.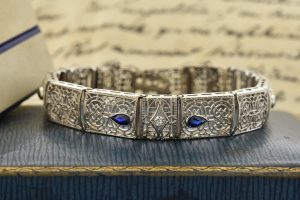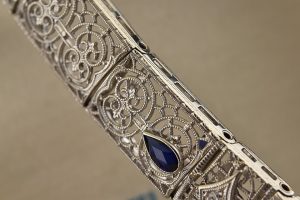 A thin layer of platinum has been applied to a 14 karat white gold framework in this late Art Deco masterpiece.  Expertly crafted from fourteen links of three different styles, this detailed filigree work is everything.  The close-up photo showcases how truly intricate this particular pattern is…  handmade lace at its finest.  Each of the three smallest links have a tiny round diamond winking from the center.  Nestled within the filigree of the adjacent links are bright blue pear-shaped synthetic sapphires, set east/west style.  The bracelet measures nearly half an inch in width, making a true statement on the wrist for just $2,700.00.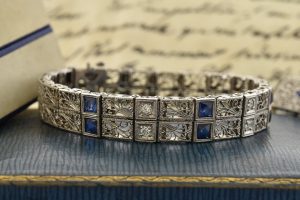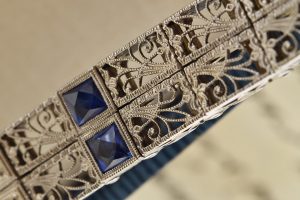 Of the two, I have a slight preference for this gem.  Made from 14 karat white gold with two rows of twenty-four links, this little darling is a decadent dreamboat of deliciousness.  I love the pattern of the filigree – it reminds me of little leaves.  Interspersed within are bright pops of color and tiny bits of sparkle; there are six French cut synthetic sapphires and four single cut diamonds.  Every edge, line and swirl of this bracelet has been accented by milgrain beading…  even the sides!  These small details are just thing to elevate this bracelet from ordinary to extraordinary.  Make this one yours for just $2,950.00.
If you're all about the arm candy for 2021…  Joden has you covered!  Call 800-747-7552 or text 724-699-1932 to shop from the comfort of your home or visit our showroom for the ultimate jewelry experience.
"You can go to a museum and look or you can come to us and touch."
Written by Carrie Martin
Photos by Dana Jerpe