Joden Girl
Baubles, Bling and Tiffany Trinkets
The iconic box in a soft and soothing shade (now known as Tiffany blue) tied with a crisp white bow has elicited excitement for more than 100 years.  Although certainly the most recognized symbol of the iconic jeweler, the little blue box is just one of many trademarks that Tiffany has become known for.
Introduced in 1995, the Atlas collection is instantly identified by the bold Roman Numerals that decorate each piece.  The clock that adorns the flagship store on Fifth Avenue was the original inspiration for the bold graphic motif.  Depicting Atlas holding up at four foot round clock, the wooden carving stands erect, strong and solid…  not buckling under his immense burden.  This is the fourth and final placement for the monumental carving having previously hung over the Broadway, Union Square and 37th Street locations.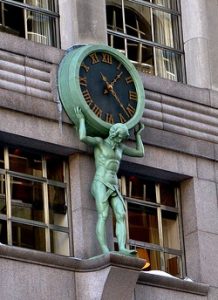 In Greek mythology, Atlas took part in the war against Zeus…  as a punishment for his crime, he was condemned to hold up the heavens on his shoulders. This bit of legend is perhaps the reason why Atlas has come to represent strength and endurance.  Nothing has more staying power than Tiffany.  Combining the celebrated jeweler with an illustrious Greek god was a stroke of genius.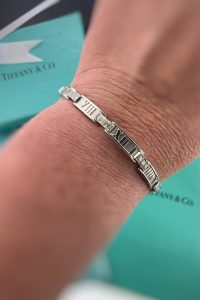 Made from 18 karat white gold, this bracelet features nine individual links including one hidden clasp.  Each of the components is emblazoned with Roman numerals.  These high polish numbers stand out against a satin-finished background.  Nestled between these larger bar links are nine smaller ones.  The tiny in-between links are set with three round brilliant diamonds each, twenty-seven in all.  Weighing approximately 1.20 carats, these sparklers have an average color grade of F-G and an average clarity grade of VVS1-2.  The bracelet itself measures 5 mm in width, perfect for daily wear.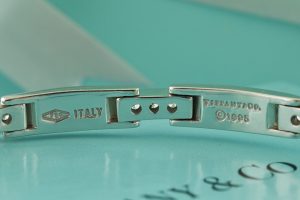 In 2020, after fifteen years of overwhelming success, the original Atlas line (including this bracelet) was discontinued to make way for Atlas X.  As it is no longer being manufactured, availability is limited.  This timeless Tiffany trinket is available in our estate department for just $2,980.00.  The superior condition of the piece is a testament to the quality and durability of the Tiffany brand.  Make it yours today.
Written by Carrie Martin
Photos by Dana Jerpe