Joden Girl
Baubles, Bling and Lucky Things
With shamrocks, leprechauns and gold coins popping up all over the place, it can only mean one thing…  St. Patrick's Day is almost here.  All around the world, glasses will be raised in celebration of the Irish heritage and millions of people will be looking for that elusive pot of gold at the end of the rainbow.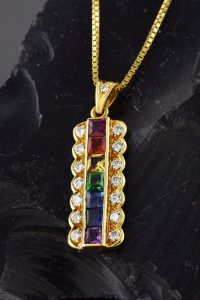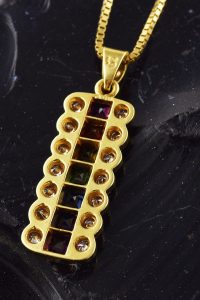 I wonder who will be found at the end of this rainbow pendant?  Made from a rich 18 karat gold, this beauty is bursting with bold color…  ROYGBIV is represented in glorious splendor.  A series of square step cut sparklers form the center section of the necklace:
Red (R) – Ruby
Orange (O) – Fire Opal
Yellow (Y) – Citrine
Green (G) – Tsavorite Garnet
Blue (B) – Sapphire
Indigo (I) – Sapphire
Violet (V) – Amethyst
For me, the most striking thing about this piece is the extra fine quality of each colored stone.  Every one is gem grade, bright and beautiful.  The combination of all seven is a sight to behold.  They are ensconced between two vertical rows of round brilliant diamonds.  The outer edges are scalloped, adding another dimension to this multicolored masterpiece.  It is accompanied by a certificate from the International Gemological Institute of America, valuing it at $2,340.00.  At Joden, it's available for just $1,750.00!
Allegedly, if you captured a leprechaun and never took your our eyes off of him, he was unable to disappear.  As payment for his ransom, the leprechaun disclosed the location of his pot of gold, often outwitting his kidnapper by saying it was at the end of the rainbow.  The trick is that rainbows actually have no beginning and no end, they form full circles.  Clever!
While you probably won't find a pot of gold, or the end of the rainbow – at Joden, you can always find just the right thing.  
You can go to a museum and look, or come to us and touch.
Written by Carrie Martin
Photos by Dana Jerpe