Joden Girl
Baubles, Bling, and A Collector's Things
In the era of technology, you can send a message with just a few thumb clicks.  Words and phrases have been shortened to just a letter or two or even simply an emoji.  While I love the convenience of text messages and emails, sometimes, it makes me long for a different time and the romance of the written word.  
When I was in Junior High and High School, notes were the main form of communication during the school day.  Pages of honeyed words for your sweetheart, paragraphs of gossip and weekend plans for your BFF.  Each one carefully tucked and folded into a little football.  There were doodles in the margins and multi-color pens employed to jazz up the correspondence.  Each origami message was passed in secret, from hand to hand.  It was so much fun!  
In the Victorian Era, letters were life!  Every detail was carefully chosen:
The perfect type and color of paper… plain, thick and smooth is best.  You don't want the writing to show through.  A black edge can be employed for mourning.  
A good pen and the right color of ink – black is preferred, blue is acceptable.  Never red.
The proper salutation for each recipient.  Carefully select the tone of the letter to match the receiver.
And, of course, the seal.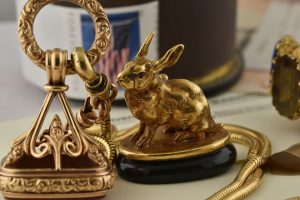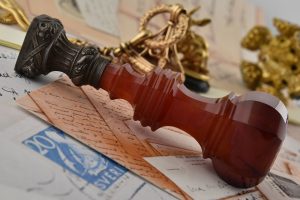 The seal was so much more than just the method of closing the envelope…  perhaps it showcased your family crest, revealing the sender.  Perhaps it carried a small message, like "remember me" or "remember me to all my friends".  Seals were crafted from karat gold and gemstones, like those shown here.  I am completely enchanted by the bunny!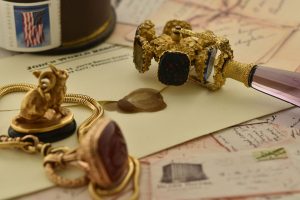 Last year, Joe purchased an entire lot of seals, 57 in total.  He kept a handful of the most unusual ones for his private collection…  a rare spinning wheel with six different images, a silver and banded agate beauty, and the rabbit just to mention a few.  Pricing ranges from $850-$4500.  
If you're like me, and want to amp up your communication game – add a seal to your jewelry collection.  Many of these unique finds can also double as a pendant!  It's a win/win situation.  
"You can go to a museum and look, or come to us and touch."
Written by Carrie Martin
Photos by Dana Jerpe