Joden Girl
Baubles, Bling with a Little Red and Green
When the red and green decorations start popping up everywhere, it signals the start of the holiday season.  According to the color wheel, these two shades are complementary.  They're directly opposite from each other, creating a bold visual interest.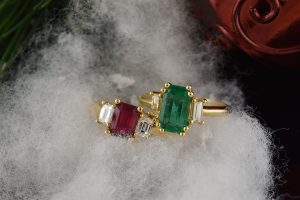 To celebrate the Christmas season in style, we are showcasing a pair of classic three-stone rings that feature the rich tones of ruby and emerald.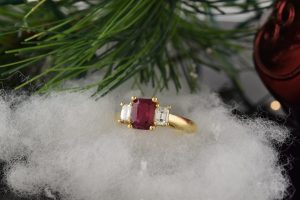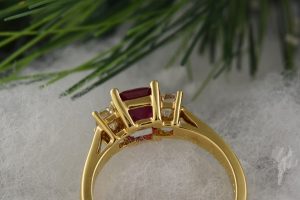 Entirely crafted from 18 karat yellow gold, this ring shines brilliantly.  A deep red emerald cut ruby is nestled between a matched pair of emerald cut diamonds.  The color of the stone is a true red without any hint of brown or pink.  It weighs 1.25 carats.  Completing the three-stone appeal of this timeless design are two diamonds that have a combined weight of .50 carat.  Ideally sized for any hand, this ring sits perfectly on the finger of your choosing from index to pinky.  It's available in our showroom now for just $2,900.00.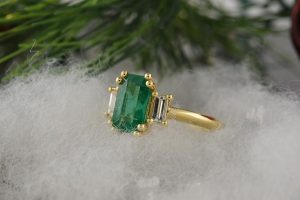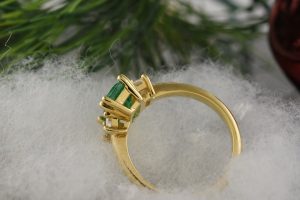 Also offering the enduring allure of the three-stone style, this beauty focuses on an elongated emerald cut emerald.  With bright verdant color, this gem weighs 1.55 carats and is secured with a split-prong design.  With eight claws instead of four, it softens the angular lines of the emerald cut.  Seated on each side of the center are a pair of straight baguette diamonds set vertically to accentuate the shape of the emerald.  These diamonds have a combined weight of .43 carat.  This 18 karat yellow gold vision is available for $4,150.00.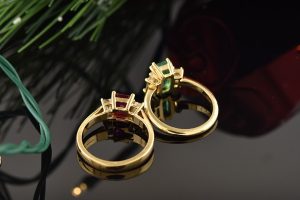 Although red and green have been associated with Christmas for hundreds of years, many don't know the significance of these beautiful hues.  Red symbolizes the blood of Christ, shed during the crucifixion while green represents the eternal life that is offered to all through Jesus.  These vibrant colors remind us of the true reason for the season.
"You can go to a museum and look, or come to us and touch."
Written by Carrie Martin
Photos by Dana Jerpe