Joden Girl
Baubles, Bling, and The Latest Things
Jewelry elicits strong emotional responses – visceral and usually immediate.  Many (perhaps even most) of our customers "ooh" and "aah" over diamonds, colored stones and the more traditional pieces.  There are, however, a few things that are met with a much more intense reaction.  A couple examples include mourning jewelry, natural scarabs and… hearts.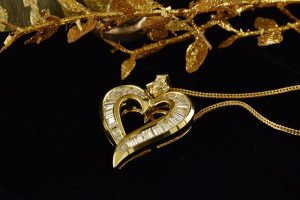 Yes, hearts.  You either love them or you hate them.  There's no middle of the road.  For me, after more than twenty years in the jewelry industry, it's a "no".  They're overdone.  Too cliché.  Cheesy.  I have also come to accept that many people love them.  This blog is dedicated to those people.  
Recently acquired, this pendant is part of our estate collection.  And although it's not a motif that I would choose for myself, I can certainly appreciate the fine quality of this piece.  Made entirely of a rich, buttery 18 karat yellow gold, this heart offers real style.  It's got great curves and a really good feel.  It's heavy… with a true sense of distinction.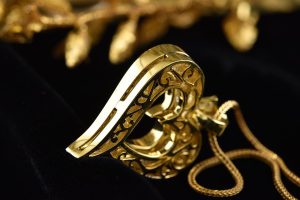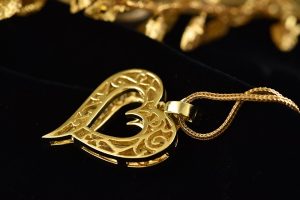 The edge is thick and wide… even the back is finished to perfection with a series of curlicue cut-outs.  This solid frame is set with thirty-six large tapered baguette diamonds.  These step-cut stones have a combined weight of over 4.50 carats!  The average color grade of the diamonds is H-I and the average clarity grade is VS.   This is no ordinary diamond heart necklace that you can pick up at the mall but rather a unique piece of fine jewelry.  
While I would not buy this for myself, there's just something about it.  I can't seem to stop looking at it.  Someone is going to absolutely love it!  Available for the steal of a deal price of just $5,250.00 – call us to make it yours today.  1-800-747-7552.
"You can go to a museum and look or come to us and touch."
Written by Carrie Martin
Photos by Dana Jerpe