Joden Girl
Baubles, Bling, and Complementary Rings
I love vintage wedding bands, especially pairs of bands… his and hers.  The more worn they are, the better I like them.  When a ring is worn day in and day out, it develops a patina that tells the most beautiful story.  Every scratch and scuff is a testament to a life well-lived and of course, well loved.  Most wedding bands (those with no stones) are designed for daily wear.  Constructed to endure everything from manual labor to washing dishes, these bands have much to say.  They are perhaps the most quintessential symbol of a promise, the ultimate commitment.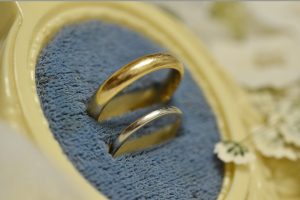 They say "I am yours and you are mine," forsaking all others for as long as we both shall live.  Those words are powerful maybe even more so than "I love you."  This pair of vintage bands may not be a visual match – but they are undoubtedly a team.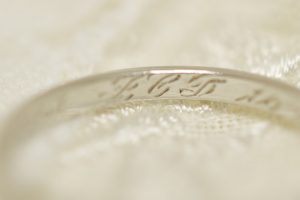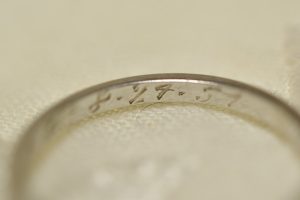 The ladies ring is made from platinum, measures just 1.7mm wide and is a size five.  It's engraved on the inside with two sets of initials.  Although faint and very worn in spots, it appears to read "BCD to ARW 8-24-51".  The mens band is made from 14-karat yellow gold, measures 3.7mm wide and is a size 9.  Inside, it is engraved in the reverse "ARW to BCD  8-24-51".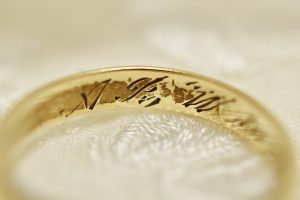 Seventy-two years.  I don't know who wore these rings.  I can see that they were treasured.  We have not refinished the surface nor did we remove the engraving from the inside…  although we could.  These rings could be high polished to a pristine shine and those precious letters could be obliterated.  I simply couldn't bear it – to erase this love story would be a crime.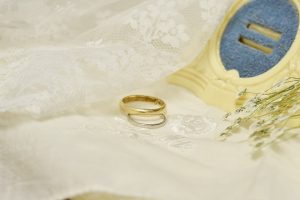 On one hand it saddens me that they're here, in our inventory instead of being cherished by a child or grandchild.  On the other hand, I am exciting at the prospect of them having a second owner who will love them as much as the first.  We have priced them as a pair, and don't want to separate them.  If you are his and he is yours, make these bands yours for just $575.00.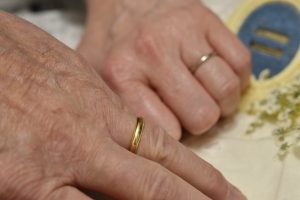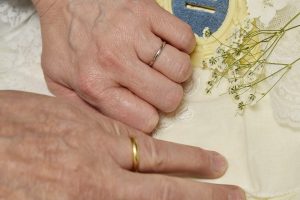 "You can go to a museum and look or come to us and touch." 
Written by Carrie Martin
Photos by Dana Jerpe