Joden Girl
Baubles, Bling and Insider Information
With a passion for cooking, she's the queen of "Hello Fresh".  Morning conversations with her always revolve around last night's dinner or inquiries about what we're ordering for lunch that day.  She's always game for a McDonald's run and she's the first one to bring in a plate of homemade Christmas cookies to share.  She's sugar, spice and everything nice…  meet Amy.
She just celebrated five years with Joden Jewelers.  Having spent most of her professional career in retail sales, she was a natural fit for our team.  She came highly recommended; we were lucky to steal her away!  With a cheerful smile and outgoing personality, it didn't take long for customers to start asking for Amy by name.  She has a knack for finding the perfect piece for everyone, Amy truly treasures the rapport that she has developed with a few special customers.  
Occasionally we'll have a quiet Saturday morning at the store and over the years Joe has utilized this time to teach us about jewelry and salesmanship.  Like mini history lessons or science instructions, we have learned about everything from the origin of a particular gemstone to the historical relevance of mourning jewelry.  According to Amy, this is the most unique aspect of working at Joden… each day there is something new to learn.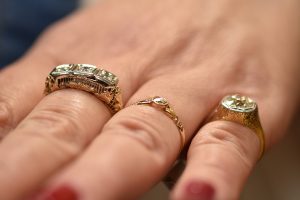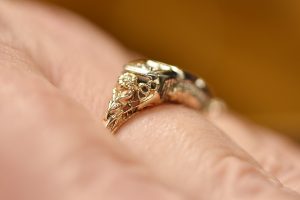 The best part of writing about each of my co-workers has been discovering what everyone's most and least favorite pieces of jewelry are.  Amy was no exception – although she didn't exactly follow the rules (no surprise there!).  For her favorite piece, Amy selected her own ring – this lovely Victorian three-stone ring (shown above on her middle finger).  It's a intricately detailed 14-karat two tone filigree band with three old cut diamonds.  Since Amy already claimed that beauty for herself, she selected this little charmer just for you.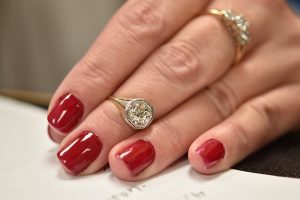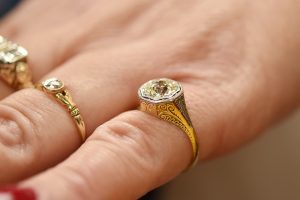 Made from 18-karat gold, this authentic ring features a 1.30 carat Old European Cut diamond in the center.  Set flush with the octagonal-shaped top of the ring, this beauty has a hint of color that brings warmth to the stone.  The accompanying certificate grades the stone as a K-L color and VS1-VS2 in clarity.  Featuring hand-engraved patterns and pierced openings, this ring is appraised for $9,350.00.  At Joden, we are offering it for just $6,375.00.  It will be on our site soon.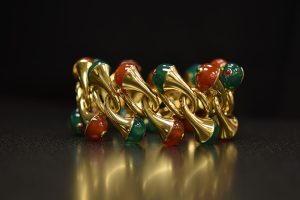 Amy selected this unusual bracelet as her least favorite piece.  The trumpet-like design of the bracelet is bold.  Made from 18-karat yellow gold, it is set with alternating cabochon stones of green chalcedony and caramel colored carnelian.  Each of these stones is capped with yet another stone of a contrasting color.  The green chalcedony has a tiny ruby on each while the carnelian has a small round tsavorite.  The overall design is striking, both in size and color.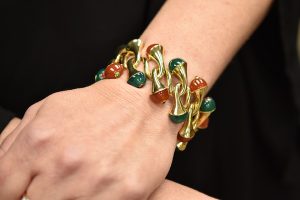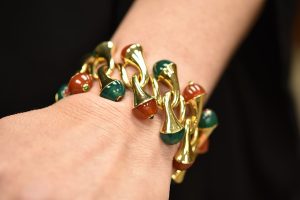 While there is no doubt that the craftsmanship of this bracelet is superb, this prominent piece is simply too flashy for Amy.  If you love audacious jewels that speak for themselves – this bracelet is available for $6,900.00.
You can see these beauties (Amy and the jewelry) in our store.  Stop by and introduce yourself.  Amy is sure to either find you the perfect piece of jewelry OR she'll share a recipe or two.  Perhaps both!  Either way, you win!
"You can go to a museum and look, or come to us and touch."
Written by Carrie Martin
Photos by Dana Jerpe