Joden Girl
Baubles, Bling and Patriotic Things
Since 1947, on November 11th, we celebrate Veteran's Day.  Originally, the day was known as Armistice Day and then Remembrance Day.  It was chosen for one very significant reason,  November 11, 1918 marked the end of WWI.  Germany signed an armistice agreement with the Allies – ceasing "the war to end all wars".  One year later, on the first anniversary of this monumental day, two minutes of silence were designated to remember those who lost their lives in conflict.  The perfect stillness of those two moments allow each of us to reflect on those who gave everything in service to our country.
The number of United States veterans tops 19 million with 167,000 still alive today.  There are so many ways to express your gratitude to our heroes…  but perhaps a heartfelt word of thanks is the simplest and most important.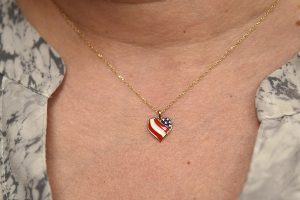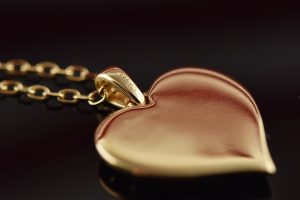 My dad served in the Viet Nam war.  He is proud to wear a hat that proclaims this hard-earned honor – Viet Nam Veteran.  He is truly touched every time someone stops to thank him for his service.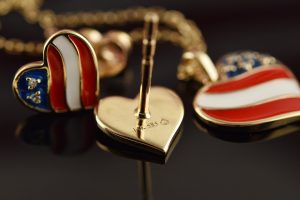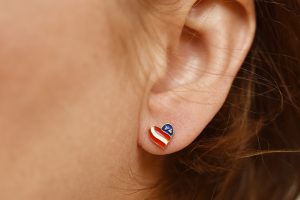 Showcase your own American pride with these dainty earrings and matching pendant from Luvente.  These tiny hearts are brightly colored with glossy red, white and blue enamel that takes the form of our beloved stars and stripes.  A little diamond marks each star.  There are five on the necklace and two on each earring.  Available in our store, the necklace sells for just $450 and the earrings are priced at $440.  
Army, Navy, Air Force, Marine Corps, Coast Guard and Space Force – today and every day, we thank you for your bravery, your sacrifice and your service.
"Greater love has no one but this, that he lay down his life for his friends." – John 15:13