Joden Girl
Baubles, Bling and Matching Things
In 1957, Russia launched the first satellite into space…  this uniquely designed technology provided valuable information about Earth's clouds, oceans, land formations and air.  The data collected helps scientists predict weather and climate change.  
This fully rounded sphere with four antennas protruding from the surface was dubbed "Sputnik".  The name is Russian for "co-wayfarer" or "fellow traveler".  The world was instantly smitten with the quirky appearance of the satellite.  Designers of everything from home decor to jewelry were inspired by Sputnik.  H. Stern was the first jeweler to a introduce satellite-influenced ring.  Others quickly followed suit.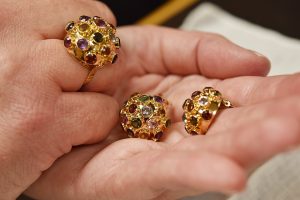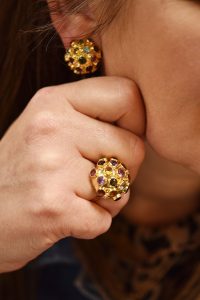 We recently acquired this Sputnik-like vintage duo.  Made from 18-karat yellow gold, these colorful earrings and ring are so fun!  Each one is a rounded dome of gold decorated with polka-dots of colored stones.  Showcasing the bold colors of amethyst, garnet, pink and green tourmaline, citrine and aquamarine – each stone is encased in a full bezel and soldered to the convex surface.  Deep purple, soft cerulean blue, bold orange, forest green and bubblegum pink… fifty-six individual gems capture a rainbow of color in three little orbs.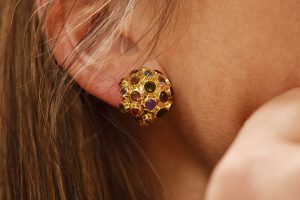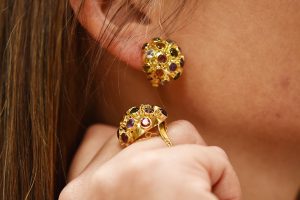 Pair them with anything and everything.  Denim jacket?  Perfect.  Church dress on Sunday?  Absolutely.  Running to the supermarket in your favorite sweatpants and a hoodie?  Why not sport your Sputnik gems, too?!?!  Delightfully casual but also altogether elegant, add this sweet suite to your wardrobe for just $1,500.  This and so much more is available in store and online with Joden Jewelers.
"You can go to a museum and look or come to us and touch."
Written by Carrie Martin
Photos by Dana Jerpe