Joden Girl
Baubles, Bling, and A Collector's Things
Scarves have been a favored accessory for the last few years – they define form and function…  and, of course, fashion.  At Joden, we have a scarf unlike any you have ever seen.  Woven from thousands of miniature seed pearls, this elegant beauty brings a classic wardrobe staple to a whole new level.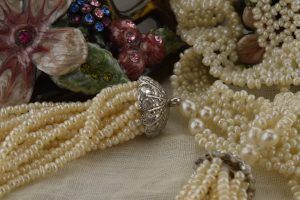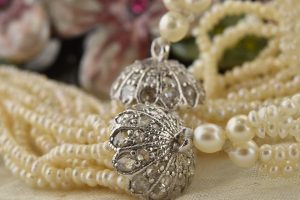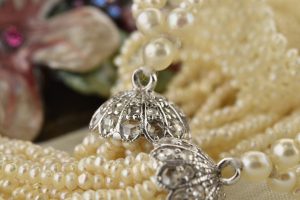 The main body of the piece is approximately 42 inches long and just half an inch wide and has a decidedly delicate feel.  Each end features a multi-stranded tassel topped with a platinum cap.  Twelve tiny petals fan out from the cap's center and are set with three rose cut diamonds each.  While it's beauty is certainly captivating, it's the versatility of this pearl scarf that has me mesmerized.
Recently, this piece was borrowed  by a long-time friend of Joe.  His daughter wore it in her wedding…  but perhaps not in the way you would think.  For the ceremony, she wrapped it around her neck allowing the tassels to flow down her back.  Later, at the reception, she looped the length of it through her chestnut colored tresses, with the tails nestled at the nape of her neck.  We have re-created the look here along with two additional styles.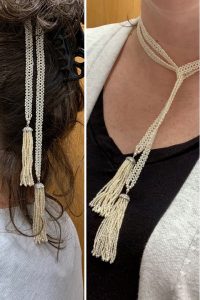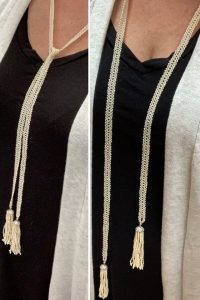 There are so many manners in which to wear this piece… around your neck, around your wrist, threaded through your hair.  With more than twenty-five ways to sport a scarf, what would you do with this pearl beauty?  Priced at $5,500…  the possibilities are endless.
You can go to a museum and look or come to us and touch.
Written by Carrie Martin
Photos by Dana Jerpe