Joden Girl
Baubles, Bling, and The Latest Things
Last week, I shared a pearl and gemstone bracelet that I found myself inexplicably drawn to –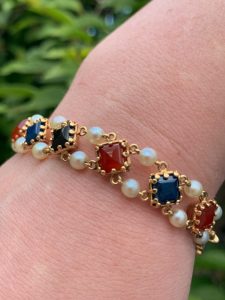 Click the photo for all the details about last week's find.  As for this week's discovery – it's simple elegance.  Admittedly, I am NOT a lover of pearls, but this week, I have yet another pearl piece to share.  I've shared my usual indifference with pearls before, so I'm not sure what's happening!  Perhaps it's because pearl is the birthstone for this month.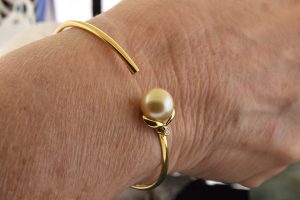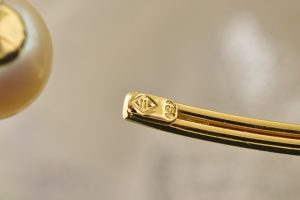 A simple wire of 18-karat yellow gold almost encapsulates the wrist – but not quite.  This delicate flexible cuff-style bracelet is the epitome of simple perfection.  One side of this modern beauty is decorated with a single flower.  A pair of leaves cradle a creamy 10.5 mm pearl.  Shimmering with an ethereal glow, the pearl brings a bit of romance to this otherwise spartan piece.  Nestled beneath the pearl amid the leaves is one tiny round brilliant diamond.  For such a little stone, this sparkler glimmers in the light.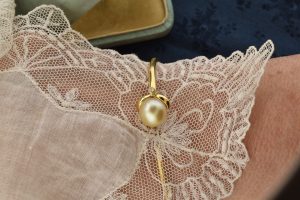 Showcased here with a bit of lace and embroidery, you can truly appreciate the classic beauty of this dainty cuff bracelet.  It goes on with ease, adding subtle charm to every wardrobe.  This latest edition to our estate department is soon to be the latest edition to our site.  Check it out in the store now for just $800.00.
"You can go to a museum and look, or come to us and touch."
Written by Carrie Martin
Photos by Dana Jerpe