Joden Girl
Baubles, Bling and Bright Things
Finally!  A new year is here…  after the roller-coaster ride of 2020, we're all holding our breath.  It's a clean slate, a fresh start.  Lots of clever memes are circulating about ushering in 2021 quietly – in hopes of not rocking the boat; and perhaps encouraging a return to our old "normal" – the good old days of 2019.  Pre-pandemic.  
Instead, I say…  "Carpé Diem!"  Let's be bold.  Leave those yoga pants in the drawer.  Put on something fabulous – even if you aren't leaving the house.  Say goodbye to the messy bun and hello to something sleek and polished.  And by all means – wear your jewelry!  Say yes to gold, diamonds, colored stones, and pearls.  Bedazzle yourself with rings, earrings, bracelets and necklaces.  
Bring some color to your life and a smile to your face with one of these dazzling rings from Joden.  These unique finds perfect the fine art of inlay.  Featuring the bold blue and green hues of Australian opal combined with fine gemstones – these rings are pure joy!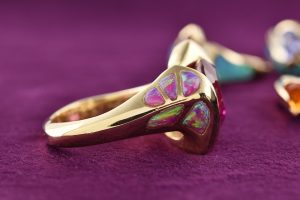 Choose a curvaceous tanzanite combo or a pink tourmaline number created by Kabana – you can't go wrong.  There's even a wide band-like beauty with intricately cut stones fit together like a luxury jigsaw puzzle.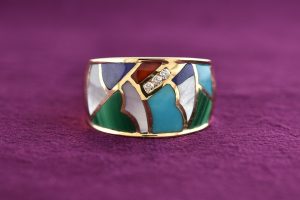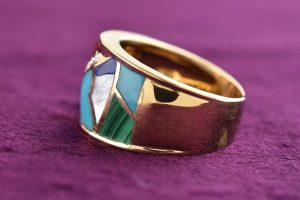 Six different gemstones have been hand-cut and expertly fitted to this stunning 14 karat yellow gold ring.  Mother of Pearl, Malachite, Lapis Lazuli, Carnelian, Turquoise and three tiny diamonds form a kaleidoscope of color that shines.  It's smooth and silky to the touch, each stone polished to perfection.  
You simply can't help but smile with a ring like this on your finger.  These six rings have a wide price range, from $350 to $1,850 – there's something for everyone.  Let's be bold in 2021.  Wear cocktail dresses in the kitchen, break out the good china and Grandma's silver.  Eat the cake.  Buy the ring!  Don't wait for special occasions, let's celebrate every single moment.  Life is too short – live and love fiercely, my friends.  
Written by Carrie Martin
Photos by Dana Jerpe