Joden Girl
Baubles, Bling and  Asymmetrical Things
The Edwardian Era was the shortest period in jewelry history, spanning from 1901-1915…  and yet some of the most iconic jewelry dates back to that time.  Platinum was the metal of choice and was often paired with yellow gold.  Artisans handcrafted baubles and beauties of all kinds…  there were rings and earrings, bracelets and brooches.  Fashion often dictated jewelry trends…   lowered necklines demanded ornamentation.  The necklace became the quintessential piece of the early 1900's.  
Designs were delicate, ethereal and utterly feminine…  like this lovely négligée necklace.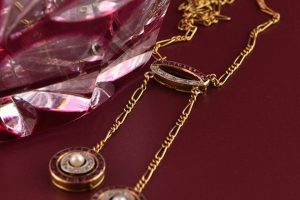 Made with a classic combination of 18 karat yellow gold and platinum, I am in love with this little gem.  The oval centerpiece features a row of square cut rubies… it is the anchor from which a matched pair of asymmetrical drops dangle.  A tiny creamy pearl is surrounded by a double halo; the inner ring set with rose cut diamonds and the outer ring set with rubies.  They hang at different lengths – the signature mark of the négligée necklace.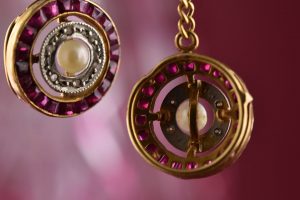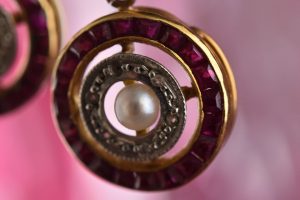 Perhaps you're thinking this style was named for the attention it drew to a lady's feminine charms…  just as a piece of lingerie would.  And while that is a great theory, the moniker actually originated from an earlier style.  Ladies were fond of wearing long strands of beads that featured several random dangles.  These unusual pieces appeared to be thrown together quite haphazardly or "negligently".  And thus – the term négligée was born.
This delightfully simple piece is a welcome addition to every wardrobe.  It adds the perfect amount of sparkle to a little black dress but also pairs seamlessly with jeans and a t-shirt.  Priced at just $1,875 – you can't go wrong.  With Valentine's Day just around the corner, consider your shopping done!  
"You can go to a museum and look, or come to us and touch."
Written by Carrie Martin
Photos by Dana Jerpe