Joden Girl
Baubles, Bling and Ethereal Things
Affectionately called Bertie, the oldest son of Queen Victoria and Prince Albert, became the King of England in January of 1901.  He held the monarchy until his death just nine short years later in 1910.  During the nearly sixty years he spent as the heir apparent, he was kept away from politics to a great extent, focusing more on the leisurely lifestyle afforded to the elite. He traveled throughout Britain, North America and later the Indian subcontinent.  He was quite popular with the people and beloved by many.  
The Edwardian era is often referred to as the romantic age…  a brief time of pleasure between the  preceding Victorian age and World War I.  Women's fashion enjoyed several developments in everything from hem length to accessories like jewelry.  In strong contrast to the heavy yellow gold jewels of the 1800's, the jewelry created in the Edwardian years was delicate and airy.  
This beauty showcases all the best things that the early 20th century had to offer.  The framework of the necklace is constructed from a 14-karat yellow gold base topped with a stark layer of platinum.  Seen in profile, the line between the two metals is crisp and clean.  The overall shape offers great lines with soft curves as well as sharp corners and everything in between.  Large open expanses that show the skin beneath are a key element of Edwardian design.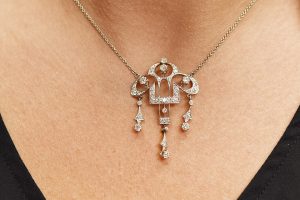 Decorating each contour of this necklace are thirty-seven European cut diamonds.  These sparkling gems have a combined weight of 1.50 carats.  Three little dangles swing charmingly from the bottom of the piece – moving with the body at every turn.  It nestles perfectly in the hollow at the base of the throat, complementing everything from a strapless wedding gown to a v-neck t-shirt.  Priced at $3,750.00, this necklace is the latest addition to our estate department and our website. 
"You can go to a museum and look, or come to us and touch."
Written by Carrie Martin
Photos by Dana Jerpe