Joden Girl
Baubles, Bling and Beautiful Things
This ring has had me captivated since I first saw it a week or so ago… inexplicably so.  It's completely opposite of anything I go for.  
In terms of white metals – there are three main choices: silver, white gold and platinum. 

Silver has multiple benefits…  it's beautiful, has a lovely shine, is readily available and it's very affordable.  It is a soft metal and will tarnish over time.
White gold is another great option.  White gold is a precious metal made from yellow gold that is mixed with white alloys like nickel.  It is then rhodium plated (a platinum solution) to give a bright white finish.  (This plating does wear and will need to be redone).  White gold is stronger and more durable than silver.  It is more expensive than silver.  
Platinum is a naturally occurring white metal.  It's a dense, and resistant to stress and breaking.  It polishes to a bright shine and never needs plating.  Over time it develops a patina unlike any other metal… the finish becomes almost satiny or frosted.  It does cost a bit more than white gold.
I'm a platinum girl.  I love everything about it; from the weighty feel of it on my hand to the rich color of the metal – it simply oozes quality.  
This ring is made from 14-karat white gold.  Set at the base of the ring (dependent upon the direction you choose to wear it), is a light green emerald-cut natural emerald.  It's set in an east/west orientation.  Shown from behind, the ring appears to have been made for an oval center stone instead of this rectangular one…  leading me to the conclusion that this is not the original stone.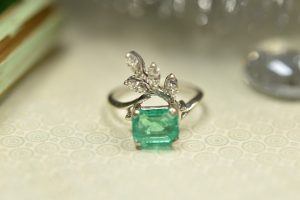 With so many luscious green gemstones available, I'm rarely drawn to emeralds.  Most often because they can have eye visible imperfections and aren't good choices for daily wear.  However – this gem the loveliest shade of beryl and weighs 2.40 carats.  Resembling the hue of fine jadeite, this stone the perfect color for this ring… and it does indeed have eye visible inclusions.  
It's asymmetrical and definitely unusual.  A small sprig branches up out of the ring, vining up the finger.  It features four leaves, each one set with two single-cut diamonds.  These diamonds have a combined weight of .15 carat, offering a hint of sparkle without upstaging the emerald.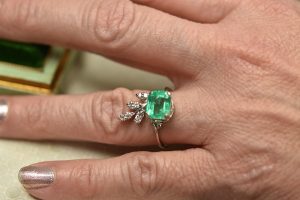 From the first moment I saw it, it reminded me of a crisp frost first thing in the morning.  Whether it be the last frost of winter when spring buds are bursting from the ground or the first frost of fall when the grass is still green – this ring is a visual reminder of the beauty of the changing seasons.  And even though it's out-of-the-box for me, it emphasizes the notion that change is good.  Moderately priced at $2,450.00, it's available in store and online.  
"You can go to a museum and look, or come to us and touch."
Written by Carrie Martin
Photos by Dana Jerpe