Joden Girl
Baubles, Bling and Spotted Things
Since the 16th century, we have been smitten with the unique appearance of the dalmatian.  These clever and vivacious pups were likable companions of well-heeled gentlemen.  Famous for their stark white fur decorated with black spots, these striking canines have been coveted by a wide array of individuals from firefighters to the despicable villainess Cruella de Ville.  
America's love affair with the playful dals (a.k.a. dalmatians) began when they became the unofficial mascot of the FDNY in the 1870's.  Dalmatians worked well with horses and were initially utilized to clear a path for the horse-drawn fire equipment.  In the years to follow, the dalmatian would be as closely associated with the firehouse as the firetruck itself.  
In 1956, Dodie Smith penned the fictional children's book titled "The One Hundred and One Dalmatians".  The exciting and entertaining story detailed the lives of the newly wed Mr. and Mrs. Dearly and their pups, Pongo and Missis.  This well-known tale was adapted to a film by Disney in 1961.  It was re-released multiple times over the years including several movies, plays, and even a musical or two.  Each of these successful endeavors was due to the charming appeal of the speckled dalmatian pup.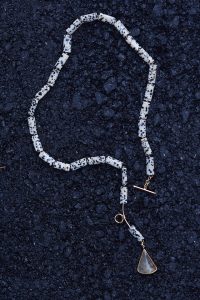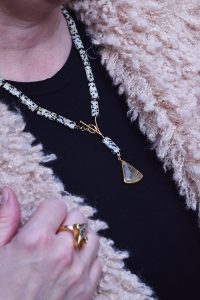 Made from a gemstone bearing the same name, this unusual suite has created quite a stir.  
Twenty-seven polished gemstone links form a striking lariat-style necklace.  Each individual bead has a creamy colored background decorated with dozens of brown and black spots.  This visually distinct stone is aptly named dalmatian jasper due to its likeness to the fire engine dog.  An 18-karat yellow gold toggle-style clasp brings the necklace together in the front, culminating with a rutilated quartz drop.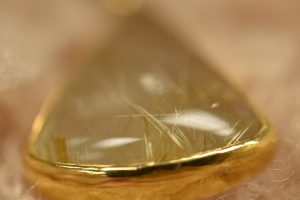 Triangular in shape, the quart crystal is encapsulated within a rich golden bezel and dangles from a single rose cut diamond.  Twenty-five tiny rondelle beads separate each jasper link.  This bizarrely bold necklace is accompanied by a coordinating ring.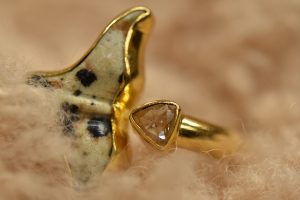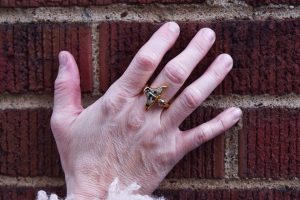 Made in a disconnected bypass style, the ring is also 18-karat yellow gold.  One side features a dalmatian jasper whales tail.  The opposing side is capped with a triangular-shaped bezel-set rose cut diamond that weighs approximately .20 carat. 
There's no question, these are some of the most unusual modern pieces in our collection.  And to be blunt, I really didn't care for them.  The ONLY reason I gave them a second look is because of you!  You guys love strange things.  You go crazy for bizarre.  And so – I took it out of its little plastic bag and ran it through my hands…  marveling over the silky smooth feel of those speckled stones.  Then I held the rutilated quartz up to the light and was awestruck by the glistening needle-like inclusions that splayed like pick-up sticks inside the milky gem.  And then, I clasped the necklace over my stark black top and slipped the ring over the knuckle of my middle finger – I was hooked.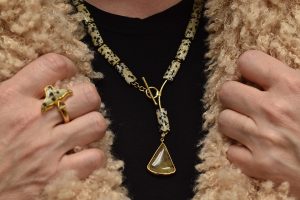 This is, without a doubt, the kind of piece you have to try on.  Laying inside that blasé plastic bag, this necklace looks like nothing.  There's no pizzazz.  It's a brown blob.  UNTIL YOU PUT IT ON…  and then the magic happens.  Priced at just $1,700 for both pieces, I know how I feel about this inspired suite.  Now I want to know what you think… is it hot?  Or not?
Go to Facebook and look, then go to our Instagram story and vote. 
Written by Carrie Martin
Photos by Dana Jerpe