Joden Girl
Baubles, Bling and Expert Things
Some of the most common questions we are asked at Joden are about the care and cleaning of jewelry.  Our customers fall into one of two groups:
Those who have their diamond and gemstone jewelry checked twice a year, ensuring that everything remains in tip top shape. These are the customers  who err on the side of caution, taking their pieces to an expert before they are in need of TLC. 
Those who take their jewelry to an expert after a problem arises.  This could be anything from a bent prong to a missing stone.  
At Joden, we have two full-time bench jewelers and an entire team of qualified professionals on staff to help you keep your treasured jewelry in excellent condition no matter which category you fit into.
Over half of our inventory is antique, over one hundred years old.  You may be wondering if vintage jewelry requires special care.  Can it be cleaned?  Should it be cleaned?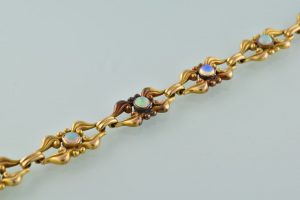 If you look carefully at this photo, you can see that a small portion of this beautiful Victorian bracelet is tarnished.  A deep patina has developed on a link in the center of the piece.  It has darkened the segment, making it stand out from the others.  I am a HUGE fan of patina…  I love how it settles heavier into the curves and recesses of the link.  I am crazy over the dimension and depth it can add to a piece, I would almost NEVER want to remove it.  Almost.  However, in this particular case – it's only on one link, spoiling the overall look.  Consequently, this sweet bracelet had a mini spa-treatment in the Speedy Brite (a very gentle ionic cleaning machine).  This cool little cleaner is safe for soft stones like opals, emeralds, pearls and turquoise that cannot be cleaned in an Ultrasonic or Steamer.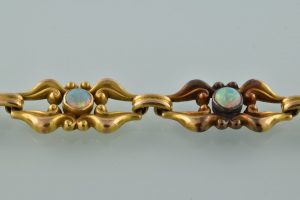 The Speedy Brite is just one of the many tools in our professional shop.  There are multiple state-of-the-art machines and techniques at the ready to properly care for your precious jewels.  The absolute most important tool that we have is knowledge and experience.  Among our staff of nine, we have over two hundred years of combined experience in the jewelry industry.  When you have a question about repairing, cleaning or caring for your pieces, don't Google it.  Don't do it yourself.  Ask the experts at Joden.  Our qualified and capable staff is sure to handle your pieces with the same regard we do our own.  From our trained associate on the sales floor to the seasoned jeweler at the bench, each of us has the utmost consideration for your jewelry.
Every piece in the vast inventory at Joden has been evaluated on an individual basis, carefully assessed before it's made available to you for purchase.  We take full advantage of the tools at hand to ensure that every ring, bracelet, pendant, brooch and earring is in excellent wearable condition.  More often than not, these heirloom treasures are left exactly as they are, one hundred percent authentic.  If need be, our experts will do repair and restoration work or even just a simple cleaning to restore the original beauty, like we did with this bracelet.  The 18 karat yellow gold has been brightened; each of the eight opals shines with multi-colored fire.  Made in the late 1800's, it's moderately priced at $1,250.00.
If you're wondering how to care for your precious gold and gems, give us a call or simply stop in.  We'd be happy to help!
"You can go to a museum and look, or come to us and touch."
Written by Carrie Martin
Photos by Dana Jerpe