Joden Girl
Baubles, Bling, and A Collector's Things
I'm completely enchanted by this delicate beauty… a perfect vintage ring that looks like a tiny bow.  I first introduced you to it several months ago in a post about the "B" word…  budget!  The holidays are definitely a time when our family budget is on my mind.  I'm sure it weighs on many of you, as well.  I love that this piece is totally budget friendly, priced at just $1400.
Made from 18 karat white gold with a .25 carat diamond center, who wouldn't want to tie the knot with this darling engagement ring?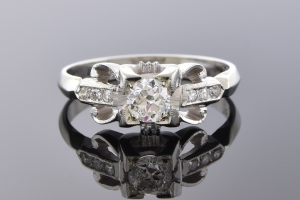 It's all about the details.  Milgrain beads create a subtle border for the loops on each side of the bright round diamond center.  Six single cut diamonds wink from each shoulder, adding extra sparkle.  The shank is made with a knife-edge peak in the center, another small detail that makes all the difference.  If you or someone you know is planning a Christmas proposal, Joden Jewelers is the place to be.  This one-of-a-kind ring is waiting for you. 
This holiday season, let our experts help you find the perfect gift for every name on your list.  
"You can go to our site and look, then come to Joden and touch."
Written by Carrie Martin
Photos by Carrie Martin and Shelly Isacco
Holiday Hours: December 14th-22nd.  We will be open until 8pm for your shopping convenience.