Joden Girl
Baubles and Bling with Unbelievable Pricing
The months of May and June are filled with celebrations and monumental occasions…  from Mother's Day to weddings and graduations, each moment is cause for jubilation.  Often, we mark these moments with a special gift or keepsake; an heirloom of the future.  
There's no question that the gift of choice in the last few months is definitely earrings…  in fact, 2021 is shaping up to be the year of the earring.  Not only do they offer an opportunity to add personality to your wardrobe, the right earring can bring light and life to your face…  they enhance the natural beauty that is already there.
Pearls are a time-honored and traditional choice for graduates and new brides.  Nothing says classic elegance quite like the perfect pair of pearl earrings.  With graduation and weddings on our mind, Dana and I thought these baguette swirl gems deserved a second look.  Channel-settings and bezels made from 18 karat white gold are the ideal spot for eighty diamonds of both round brilliant and baguette cuts.  These sparklers have a combined weight of 1.04 carats.  We are loving the interwoven design of these elegant gems!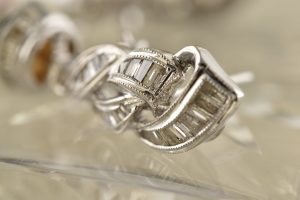 A perfectly matched pair of 11mm pearls cap the ends.  These white rosé colored orbs shimmer in the light, accentuating every skin tone with quiet beauty.  
Omega style backs are not just comfortable, but also so secure!  We love this feature – if you've never had a pair of earrings with Omega backs, you don't know what you're missing.  They're easily adjusted to any ear…  these minor tweaks can be handled here in our expert shop.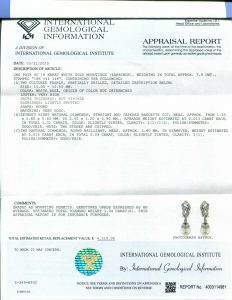 As you can see, these earrings have been appraised by the International Gemological Institute of America – valuing them at $4,510.00!  They have been on our site for quite awhile at a great price…  just $2,400.00.  They are now a featured Pick of the Week, making them eligible for a significant price drop.
Appraised Value:  $4,510.00
Original Website Pricing:  $2,400.00
*****Drumroll, please!*****
New Unbelievable Price:  $1,775.00
BOOM!
Don't hesitate!  These beauties are absolutely perfect for the graduate, bride or special lady in your life.  Who knows?  Maybe that lady is you!
Go to our site and look, then come to us and touch.
Written by Carrie Martin
Photos by Dana Jerpe and Shelly Isacco