Joden Girl
Baubles, Bling and Birthstone Things
May is a magical month – watching the earth come alive is exhilarating.  The lush greenery and fresh grasses that will ultimately bloom with bright pops of color…  daffodils and tulips, pansies and primrose seem to burst from the ground and reach for the first rays of the warm spring sun. 
With its enchanting green color, the emerald has long been a symbol of rebirth and renewal.  This rich imagery made it a perfect birthstone for the month of May and the first days of spring.  Since the early Victorian period, emeralds have also been associated with love.  Dubbed the "Romantic Era," the years from 1837-1860 are earmarked with these themes, often represented by vines and leaves.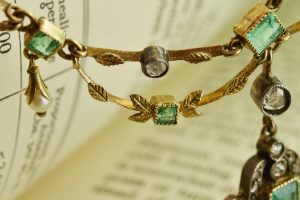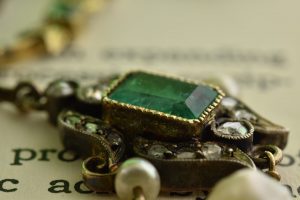 Made from a classic combination of silver and gold, this ethereal necklace is a captivating series of four two-tiered garland swags that flank a stunning small medallion center.  Each arched link is articulated, allowing the piece to move gracefully with the body.  Thirty-six small golden leaves are interspersed throughout the piece, adding an element of botanical beauty.  Eleven soft green emeralds punctuate the juncture of each link, bringing the vibrant hue of life and growth to this 1850's gem.  Seventeen small seed pearls further soften the already dreamy feel of the necklace.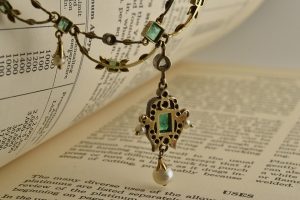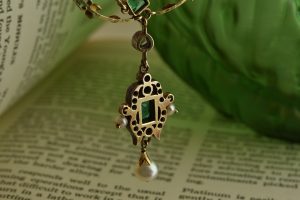 Dangling from the apex of this floral masterpiece is a dainty yet oh-so delicious pendant.  Mossy green in color, the center emerald cut emerald shines from within a sculpted halo of fifteen rose-cut diamonds.  These tie in perfectly with the seven rose-cuts accenting the main portion of the necklace.  A single white pearl finishes the piece  with a touch of sweetness. 
A classic representation of the early Victorian era, this piece is the ultimate in emerald elegance.  Each detail from the tiniest to the most significant sing in harmony – creating a true treasure.  Priced at $5,400.00, this piece is sure to add sophisticated charm to your life.
"You can go to a museum and look, or come to us and touch."
Written by Carrie Martin
Photos by Dana Jerpe