Joden Girl
Baubles and Bling with Unbelievable Pricing
Nothing is more classic than a strand of pearls.  From graduations to weddings – pearls are timeless.  Occasionally, even the most classic designs can be improved upon…  a modern day innovator can take a time-honored style to the next level.  
Galatea is one such pioneer.  A ground-breaking concept came to life when Chi Huynh first began carving intricate designs and  patterns into the surface of opalescent pearls.  
These Tahitian beauties have each been hand-carved with a repeating and interlocking pattern.  This unique concept adds an additional layer of interest to the purplish-gray iridescent nacre of each pearl.  Measuring 10 to 11mm each, this 18 inch strand opens and closes using a hidden magnetic clasp.  
These gems have been on our site for $4,500 – but now, with the magic of Pick of the Week pricing…  they're now available for just $3,150!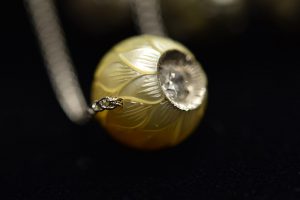 For a more minimalist look, consider this single carved pearl pendant from Galatea.  One 10mm golden pearl has been sculpted into the Lucky Daisy design and then set with a sparkling round brilliant diamond.  Weighing .20 carat, this bright stone is artfully recessed into the heart of this lovely gem.  
Combining two classics – a diamond pendant with a pearl pendant – this contemporary choice is ideal for daily wear.  Originally priced at $2,165…  we are now offering this stunner for the absolutely unbelievable price of just $975.00!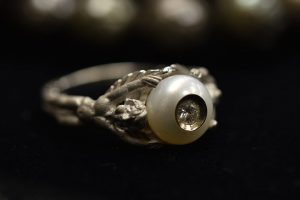 Wrapping up our Galatea feature is this incredibly unique ring.  With arched backs and arms raised to the heavens, a pair of angels clasp a small white pearl between their hands.  These winged beauties are positively resplendent with carved details…  from the tips of their soft curls to the base of each pointed toe, these angels sing!  A bright white diamond is bezel set within the center of the white pearl.  This unusual ring was priced at $1,165 – but is now reduced to $710.00! 
Just in time for the holidays, we have three truly special pieces – each one now offered at new and unbelievable pricing.  Take advantage of these incredible offers…
Call 1-800-747-7552
Text 724-699-1932
Visit our website to see the strand of Tahitian pearls.
"You can go to a museum and look or come to us and touch."
Written by Carrie Martin
Photos by Dana Jerpe and Shelly Isacco