Joden Girl
Baubles, Bling, and a Delicious Ring
$1280!  What?  I'm starting backwards today… mostly because I can't believe the price of this turn of the century beauty.  Made in the early 1900's, this little ring is nothing short of stunning.  It twinkles in the sunlight, positively resplendent.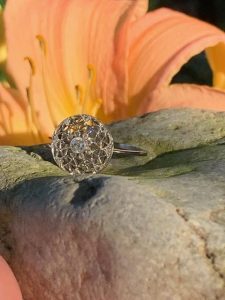 It was made entirely by hand, with a center bezel set Old European Cut diamond that weighs approximately .10 carat.  Eight rose cut diamonds (also bezel set) accentuate the heart of this gem, serving to create a floral feel.  An intricate lacy design radiates out from the middle in a series of eight concentric circles.  They are artfully entwined like miniature petals on this Chrysanthemum like bloom.  Each platinum wire has been carefully decorated with a milgrain edge, adding a flourish to the exquisite filigree.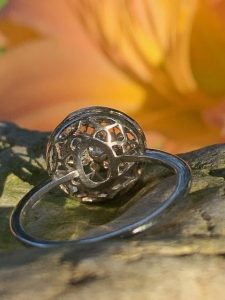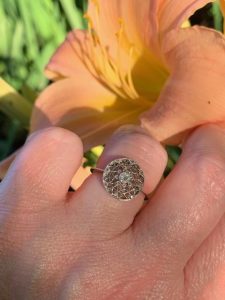 Even the under gallery of the ring showcases a beautiful lattice pattern.  The fine quality of the workmanship lends itself to the French, although it is unmarked and unsigned.  It embellishes the hand with quiet elegance, no other adornment is needed.  
Let me repeat myself – $1280.  Call.  Text.  Send an email.  Stop by the store.  But please, someone buy this ring!  It's simply too good to miss!
"You can go to a museum and look, or come to Joden and touch."
Written by Carrie Martin
Photos by Dana Jerpe