Joden Girl
Baubles, Bling, and A Collector's Things
I'm not into heart shapes.  Well, maybe if it's a cookie, but not in jewelry.  Once in a long while one of these little love tokens will catch my eye – like this diminutive beauty.  Measuring only one inch from the top of the bail to the point at the bottom, this symbol of affection is completely covered in Old Mine Cut diamonds; twenty-nine of them to be exact, with a combined weight of 1.50 carats.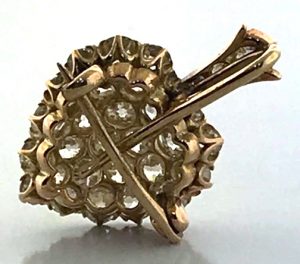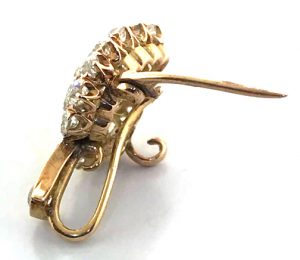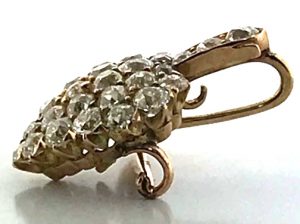 I adore everything about this piece…  especially that it's not just a pendant, it's also a pin.  Although brooches aren't as popular as they once were, one of this size is much easier to wear…  pin it to your collar, your lapel, or even your cuff for a trendy modern feel.  Style it short like a choker or on your favorite strand of pearls for a classic look, this gem is so versatile.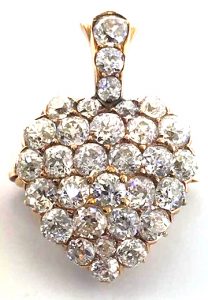 Made during the late 1800's, this Victorian pendant is in pristine condition.  A lovely rosy patina has developed on the 18 karat yellow gold framework, adding another element of vintage appeal.  It's as beautiful today as it was when it was made, nearly 150 years ago.  It's no surprise that I found it in Joe's Special Box.  Priced at $4,700.00, this pendant melts my heart.  
Photos and Writing by Carrie Martin