Joden Girl
Baubles, Bling, and A Collector's Things
Green, White, and Violet.  What do these colors mean to you?  Perhaps you're reminded of their longtime relevance to the virtues… Green for Hope, White for Purity, and Violet for Nobility.  Some of you may be thinking of something even more significant:
This outstanding trio of colors was undoubtedly associated with the women's suffragette movement of the early 20th century.  Beginning in Great Britain with the WSPU (Women's Social and Political Union), these brave women organized marches, protests and hunger strikes.  They were FIERCE!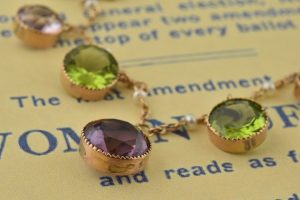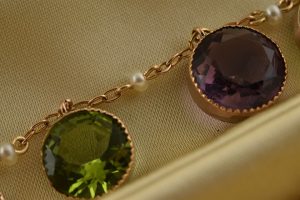 100 years.  Just 100 short years since women gained the right to vote.  There is much debate about the jewelry of that time.  Many pieces were crafted utilizing these three symbolic colors, but no one can be quite sure which ones were truly suffragette jewels and which ones were simply beautiful pieces of the era.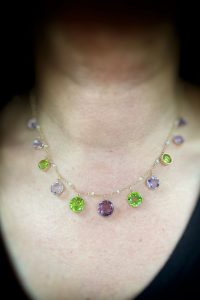 This necklace, crafted from a rosy gold is indeed comprised of green, white, and violet.  A delicate cable link chain is embellished with an alternating pattern of amethyst and peridot drops.  One tiny seed pearl is nestled between each bezel-set dangle.  Priced at $3,850.  We will never know what this necklace meant to the original wearer.  What would it mean to you?
"You can go to a museum and look or come to Joden and touch."
Written by Carrie Martin
Photos by Dana Jerpe