Joden Girl
Baubles, Bling and Baroque Things
Occasionally, the treasures in our estate department can more accurately be described as pre-owned. Not belonging to any particular period, nor being terribly old…  these modern marvels can often be scored at a great price.  This is just one of the advantages of estate jewelry.  
This week's piece is one of those things that we've had for a bit.  I've passed it over time and again.  I'm not usually a fan of pearls, so it was easy for me to keep overlooking the quiet beauty of this necklace.  Last week, something about it made me stop.  As I extracted it from the hazy rumpled plastic bag, I began to see the true potential.  After a closer examination of the fine details, I was certain that a necklace of this quality had to be signed.  There had to be a maker's mark….  
Turns out – I was right!  On the back side of one golden hued pearl is this small round disk, carefully engraved "Yvel 750".  Much as I hate to admit it, I hadn't heard of Yvel.  Thankfully I have Google at my fingertips.  Imagine my surprise to discover the wonders of this unique designer.  I love this line from their site… "Created by nature, designed by Yvel".  In their own words, "Yvel is an international luxury jewelry brand recognized worldwide for its distinctive creations featuring nature's most treasured resources."  
Though I was unable to locate our exact necklace, based on the warm earthy tone of each oversized pearl, I'm sure this find must have been part of the Golden Brown Collection.  Twenty inches of textured 18 karat yellow gold oval links and eleven South Sea baroque pearls are further accented by four hundred and sixty-two cinnamon colored diamonds.  These sparkling gems have a combined weight of 5.00 carats.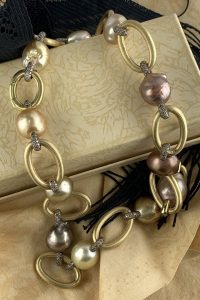 These pearls are unusual…  they are baroque South Sea.  The term "baroque" refers to the unsymmetrical shape of the pearl.  They are appreciated for their one-of-a-kind silhouette.  South Sea pearls are among the largest harvested pearls in the world.  Grown inside the pinctada maxima oyster in the waters between the northern coast of Australia and the southern coast of China, these gems are known for their large size.  These particular pearls are considered second generation, meaning they take between 7-10 years to culture and measure between 14-18mm.  The color of the pearl is determined by the type of oyster in which it has grown; as it forms, it acquires the the same color as the lining of the oyster.  Golden toned pearls like these come from the area around Indonesia and the Philippines.  
Winners of multiple awards, Yvel was founded in 1986.  The Golden Brown Collection was inspired by the natural beauty of the golden saltwater gem.  "When combined with Yvel's contemporary jewelry designs, something magical happens and the enchantment begins."
Join the Yvel fan club by claiming this necklace for yourself.  Available now for $9,500.00.
"You can go to a museum and look, or come to us and touch."
Written by Carrie Martin
Photos by Dana Jerpe