Joden Girl
Baubles, Bling and Intricate Things
Less than 24 hours…  it's not a record, but it's still pretty darn great.  That's how long these earrings lasted on our website.  The blog posted Monday, and by Tuesday…  sold!  Your response inspired us to select a complementary piece for today's post – we know you're going to love it too!  ♥
Defined as thin metal wire (usually gold or platinum) formed into delicate patterns – filigree is light, airy and incredibly lovely.  This style of decorative art pairs lace-like detail with open spaces and delicate coiled wires.  The end result is exquisite ethereal elegance.  It is one of the most iconic earmarks of vintage jewelry.  Filigree is most often associated with the early 20th century.  
Encompassing the years from 1901-1910, the Edwardian era is frequently characterized by a yellow gold foundation topped by a layer of platinum.
Shown here, the base structure of this bracelet shines with the warmth of yellow gold iced with a blanket of crisp white platinum.  An elongated diamond shape marks the center of the bracelet.  Perfectly placed in the middle is a round diamond sunk within a square setting.  Flanking the diamond are six natural French-cut sapphires.  Bright blue in color, these gems have a total weight of approximately .40 carat.  Two additional diamonds are seated within the bracelet – combined with the center stone, these three European cuts have a complete weight of .25 carat.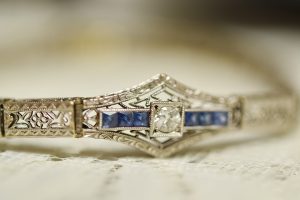 The remaining seventeen rectangular links showcase a gossamer cobweb of fine wirework.  The pattern stars a four-petaled blossom between a pair of leaves.  The clasp is cleverly hidden within the final link.  Outlining the entire length of the piece is a narrow engraved border – it frames the bracelet on the top and bottom edges.  
One final detail brings the vintage vibe full circle… rows of tiny beads cover each line and curve of the bracelet.  It's called milgrain and it is the quintessential mark of Edwardian and Art Deco jewelry.  It adds texture and creates defined borders and sharpens the overall pattern and design.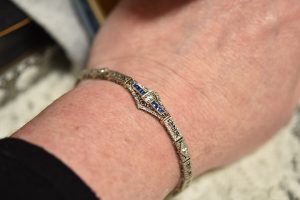 On the wrist, it's ideally sized for every occasion.  Wear it with anything and everything – it's perfect anywhere and everywhere.  In superb condition, you might be surprised to discover that this beauty is available on our site now for just $1,400.00!  Pop on over and check it out for yourself.  If you love it…  grab it.  Past experience has proven that pieces like this don't last long.  
"You can go to a museum and look, or come to us and touch."
Written by Carrie Martin
Photos by Dana Jerpe