Joden Girl
Baubles, Bling, and Magnetic Things
Do you ever find yourself inexplicably drawn to something?  It's not your usual cup of tea… and yet.  And yet, you go back, time and again.  That's how I feel about this strand of pearls from Galatea.  Forty-two Tahitian pearls in varying shades of purplish gray comprise this most unusual necklace.  The nacre (or outer coating) of each little bead has been intricately carved into a damask-like figure, each line curving into the next –  the hollowed out grooves polished to a deep glow.  Five small lines are etched into the base of each design, completing the endless pattern.  
No two are exactly alike.  The colors range from a pale greenish gray to a dark and rich purple hue – much like the wings of an insect.  The ombre effect is dazzling.  This princess length strand slides into the number three spot on my list of "gift worthy" pieces for the upcoming holiday season. 
I love that it isn't just another strand of pearls – these have personality.  Even a little pizzazz.  But at the same time, they're classic and timeless. You could wear them with your apron in the kitchen, cooking Sunday dinner or you could wear them to the office.  They would easily pair with a denim jacket or a little black dress.  Versatility is everything and these babies have it in spades.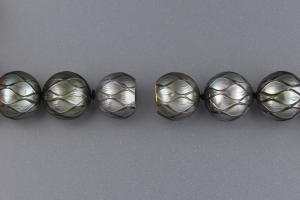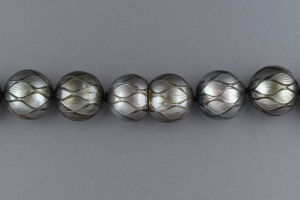 Now, check out this bit of magic!  The hidden clasp is magnetic.  Yep, you heard me.  It's magnetic!  No tiny lever to pull on, no fishing one end into another.  Just get the two pearls close to each other, and snap!  They're clasped.  It could not be easier.  Perfect for anyone's hands…  from the youngest to the oldest, no one can resist. 
Priced at $4500, these colorful jewels of the ocean are sure to delight any of the ladies on Santa's List.  Go to our site and look, them come to Joden and touch.
Written by Carrie Martin
Photos by Carrie Martin and Shelly Isacco