Joden Girl
Baubles, Bling, and Hard Stone Things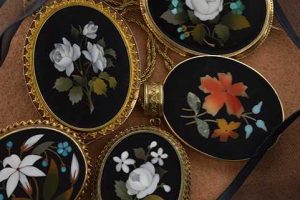 Pietra Dura – these Italian words mean "hard stone"…  and that is precisely what these beauties are.  Crafted in the late 1800's with a matte black background and inlaid with elaborate interlocking pieces of semi precious stones, each one of these brooches is a masterpiece.  
They are miniature puzzles, with precisely cut slices of agate, lapis lazuli, jasper, and chalcedony artfully arranged to create budding and fully bloomed floral majesty.  Artisans hand-cut and polished every single piece of stone to align perfectly with the next.  This decorative art form originated in Rome in the 1600's but didn't realize it's full glory until two centuries later in Florence.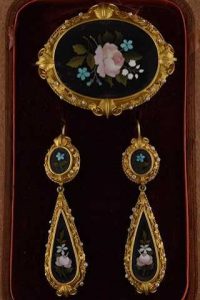 Many Pietra Dura pieces were sold as souvenirs once travel and touristy become popular at the end of the Victorian era.  Whether worn on a black velvet ribbon or pinned to a high-necked collar, women were crazy for these mosaic gems.  Romantic details like twisted rope borders and seed pearl trim were added to the golden frames to enhance their appeal.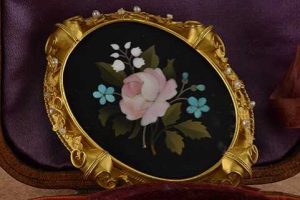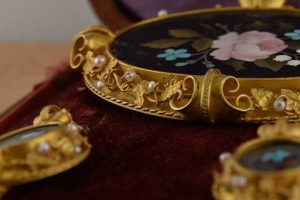 A delicate pattern of tiny three-dimensional leaves and coiled wire stems encircle the border of this demi-parure.  It sits on a luxurious bed of rich red velvet, violet silk, and burnt orange leather  – the principle ingredients of the original fitted case.  This suite is comprised of a large brooch and a pair of dangle earrings.  Pink, blue, and white blossoms burst from the black marble plaques.  It's truly remarkable and utterly feminine in the best possible way.  
You don't have to go to Italy to see these charmers.  You simply must come to Joden and discover this historical art form for yourself.  
For these gems and so much more, like us on Facebook and follow us on Instagram.
Written by Carrie Martin
Photos by Dana Jerpe