Joden Girl
Baubles, Bling and Flowery Things
Influenced by WWII, the designs of the Retro era were a marked change from everything that came before.  With all of the platinum going toward the war effort, jewelry in the 1940's featured multiple colors of gold…  yellow, rose and white.  Taking the form of scrolls, volutes and often flowers, these golden jewels were boldly ornamental.  Colored stones were extremely popular – the largest ones were usually citrine, topaz, amethyst and aquamarine.  Frequently paired with these gems were small accent stones like sapphire, diamond and ruby.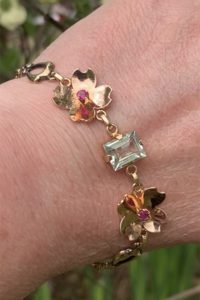 Aged at about 80 years, this bit of wrist candy is a nature lovers dream.  The center is defined by a singular emerald cut aquamarine.  This rectangular beauty exhibits perfectly squared corners and a hypnotic sky blue hue.  Flanking this gem are a pair of 14-karat rose gold sculpted dogwood blossoms.  Polished to a glossy sheen, these three-dimensional flowers each have a small ruby center.  For centuries, dogwood has been associated with peace, strength, love and protection.  According to legend, carrying a piece of wood from a dogwood tree can act as a talisman;  it is believed to be bad luck to burn the wood or pluck the flowers from the tree.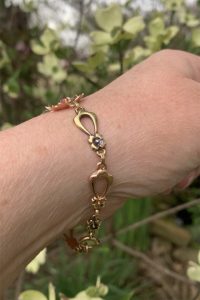 Rounding out the bracelet are six additional links.  Crafted from both 14-karat yellow and rose gold, these links take the form of a horseshoe shape that is capped with a miniature dogwood flower.  The links alternate yellow gold, then rose gold and back to yellow gold presenting four horseshoes and six flowers.  Organically beautiful this bracelet wraps the wrist with botanical charm.  This fresh find is available now in our store for $2,375.00 – simply too good to miss!
"You can go to a museum and look or come to us and touch."
Written by Carrie Martin
Photos by Dana Jerpe