Joden Girl
Baubles, Bling, and The Latest Things
At first glance, jewelry can often appear to be simple – straightforward.  But with the help of a loupe and a trained eye, we can begin to appreciate each detail.  Recently we acquired a real Art Deco stunner.  Like most pieces from the era, this vision is made entirely of platinum.  The shank of the ring is narrow and delicate…  at the shoulder, it forks into three fingers.  The outer two are basic clean lines but the center one is an artfully tapered leaf-like form.  It flares out at the top and then comes back to a point.  This elegant element is duplicated on the other side.  
Those six fingers cradle the center component – two diamond squares.  The outer equilateral figure is filled with twelve round diamonds that have a combined weight of approximately .50 carat.  They form a border for a single center diamond.  This square emerald cut sparkler weighs approximately .70 carat and is set within a milgrain-edged border.  The appeal of a step-cut diamond is different than that of a brilliant-cut stone.  Step-cuts offer an enchanting sophisticated charm.  The two outlines that encase the twelve round diamonds also feature the same beaded edge.  Milgrain is a classic detail that was very prominent in the Art Deco period.  There is a perfectly symmetrical gap between the center stone and the halo that surrounds it.  This seemingly irrelevant detail is my favorite part of the ring.  The space between the inner and outer squares accentuates the crisp, clean refinement of the center stone.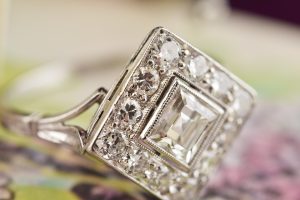 The ring is striking on the hand.  It's in superb original condition considering it was made in the 1930's.  Soon to be a featured piece on our site, this estate ring is available now for $4,900.00.  
"You can go to a museum and look, or come to us and touch."
Written by Carrie Martin
Photos by Dana Jerpe