Joden Girl
Baubles and Bling with Unbelievable Pricing
One month, two months, three months…  how much of your annual salary should you dedicate to purchasing the most significant piece of jewelry in your life?  Let's talk about that budget (Ugh… the "B" word!) and how we can make it work for you.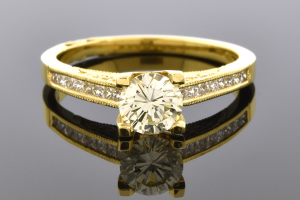 Toss your spare change into a jar, sock your extra dollars into a savings account.  Scratch some lottery tickets or bet on your favorite sports team.  When you're saving for an engagement ring, sometimes you have to get creative!  That's where we come in.  Our sales team is here to help you convert your hard-earned cash into the ring of your dreams.  
The Joden philosophy is quite simple… just three little questions before you pop the ultimate question!
Is it pretty?  With hundreds of rings in our inventory to choose from, it's our job to narrow it down to the perfect one.  Antique or modern, classic or custom…  the possibilities are endless. 
How much does it cost?  At Joden, we have rings for every budget.  The most recent data shows that over half the people in the world plan to spend between $1000-$5000 on an engagement ring.  
How do I pay for it?  We accept cash or check as well as all major credit cards.  We also offer interest-free financing and six-month layaway.  With just a bit of planning, the perfect ring is within your reach.
For the past several months, we have added an extra element to turn your jewelry dreams into a reality.  Our latest series, The Pick of the Week, focuses on pieces that we've had for more than six months.  We're giving these beauties a second look as well as a new and unbelievable price! 
This designer darling is made by one of the most recognized names in the industry…  Tacori.  Their timeless designs are among the most popular in the world.  Set with a .70 carat round brilliant center, this 18 karat yellow gold gem is on trend for 2020.  Sixteen princess cut diamonds are channel set into the shoulders and sixteen round brilliants are nestled into the signature crescent shaped gallery work.  These diamonds combine to offer an additional .30 carat of bling.  If you're keeping track, that brings the total diamond weight of this piece to an exact 1.00 carat!
This ring was certified by the International Gemological Institute of America and has a a retail replacement value of $4,060.00.  The original Joden price was $3,700.00 – a good buy!  Now, we're offering this 1.00 carat total weight original Tacori design for just $2,960.00!  This steal of a deal is just too good!  Come in and see it with your own eyes!
"You can go to a museum and look or come to us and touch."
Written by Carrie Martin
Photos by Dana Jerpe and Shelly Isacco