Joden Girl
Baubles and Bling with Unbelievable Pricing
The fifties…  probably the decade that I can most easily identify with.  The family unit was the most essential part of daily life.  Although the ideals seem antiquated now, I would have loved to have been a full-time mother and homemaker while my husband was the breadwinner.  In my mind, it seems like a perfect little life.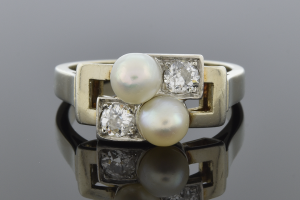 The perfect life requires the perfect accessory…  we have it at Joden.  It's our Pick of the Week.  Made in the 1950's this 18 karat white gold ring exemplifies simple beauty.  Made in a bypass style, this tiny gem features a matched pair of natural pearls and a pair of Old Mine Cut diamonds.  These two stones have a combined weight of approximately .20 carat. 
Bearing French hallmarks on the outside of the shank, this Mid Century Modern ring was originally priced on our site at $1300.00.  As you know, the Pick of the Week is always about offering stellar jewels at a discounted rate.  Our new unbelievable price on this ring is just $925.00!  With petite styling and modern flair, this ring looks great on the hand and even better on the budget!  
"You can go to our site and look, then come to Joden and touch."
Written by Carrie Martin
Photos by Dana Jerpe and Shelly Isacco