Joden Girl
Baubles, Bling and Botanical Things
It's no secret that bodies come in all shapes and sizes…  for that very reason, jewelry also comes in a wide variety of sizes, lengths and widths.  Due to poor nutrition and health conditions, Victorians were small (on average, 65 inches).  Today, the average man is 69 inches tall.  Often, rings from the 19th century are tiny.  Bracelets are also short, commonly measuring less than seven inches.  Unfortunately, it can be challenging to find the perfect fit for those pieces – a Cinderella's slipper kind of quest!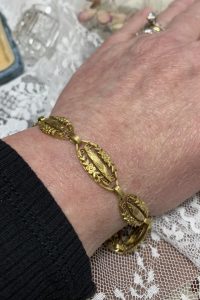 This Art Nouveau bracelet is a rare find.  Measuring 8.5 inches in length, this 18-karat golden beauty is comprised of eight identical links.  Pairing laurel vines with forget-me-not blossoms, each link is a tiny work of art.  Marquise-shaped, each one features a textured center with two x's.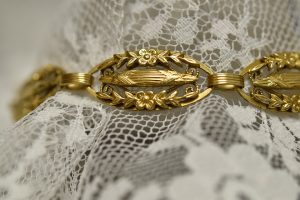 The back is just as lovely as the front and highlights the beaded wire swirls that provide structure as well as beauty. 
The clasp is hidden, integrated within one of the laurel links and features French hallmarks.  Joining each link together are small ribbed rings.  The condition is superb – showing no signs of wear.  The long length makes this bracelet an ideal choice for many.  It can be worn as is or if a shorter length is needed, a link or two can be removed (an extra link would convert perfectly into a bar-style necklace!).  Moderately priced at $3,500.00, this antique beauty is available on our site.  Check it out now!
"You can go to a museum and look, or come to us and touch."
Written by Carrie Martin
Photos by Dana Jerpe