Joden Girl
Baubles, Bling, and A Collector's Things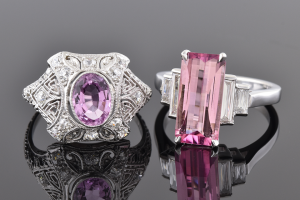 Take a long drink of these Pink Ladies….  much like the classic cocktail, this dazzling duo display frothy white diamond details further accented with a delicious blush colored center.  It's enough to make your head spin.
Let's draw this analogy out a bit further…  the ring on the left is definitely the "Sandy Olsson" of the two.  Soft curving feminine lines and lacy details speak for themselves in this demure beauty.  Crafted from platinum during the Art Deco period featuring a glorious pink topaz center – you can't resist it.  Every Danny needs his Sandy…
And then there's Betty Rizzo – or Rizzo for short.  You can't stop staring, can you?
Also made from platinum, this head-turner is all strong lines and hard edges…  but at heart, you'll see the softer side; a gorgeous fancy cut Pink Tourmaline.  Eat your heart out!
Pieces like these are the reason that "Joe's Special Box" exists.  It's a haven for rare beauties.  Like they say…  "Act cool, look cool, be cool.  Til death do us part, think pink!"   And as always…
"Go to our site and look, then come to Joden and touch."
Written by Carrie Martin
Photos by Shelly Isacco