Joden Girl
Baubles, Bling, and A Collector's Things
This week, I want to play a little game.  One of these rings was pulled from Joe's Special Box and the other from the scrap box.  Both pieces are from the 1970's – a decade much like today.  Faith in the government was shaken to it's core, American's were protesting a myriad of issues and equal rights were at the forefront.  I'd like to propose a debate of our own…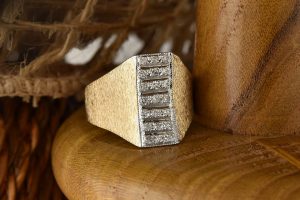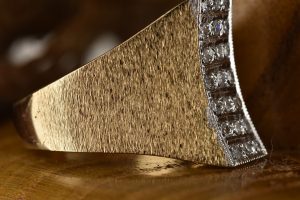 This ring is sleek sophistication.  A 14 karat two tone band centers on seven horizontal rows; each set with three perfectly matched single-cut diamonds.  These twenty one sparkling gems have a combined weight of .25 carat.  The profile of the wide center is concave, a design element that I love.  The shank of the ring tapers down from there and features an understated satin finish.  It fits my finger perfectly…  I can't get enough of that 1970's vibe!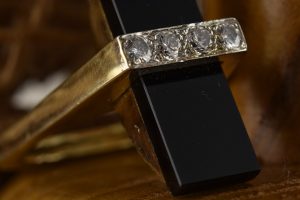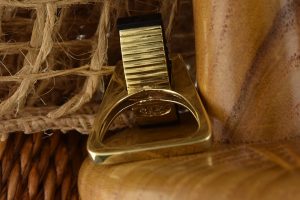 And this one is chic and refined.  18 karat yellow gold with a sliver of platinum trim create the triangular shape of this geometric gem.  An elongated slice of black onyx runs parallel to the finger and is set with a small bar of diamonds.  There are four stones with a combined weight of .33 carat.  The bright yellow metal underneath the center is accented with a convex ribbed design; injecting another element of cool.  When worn, I'm mad for the crisp clean line of this stunner.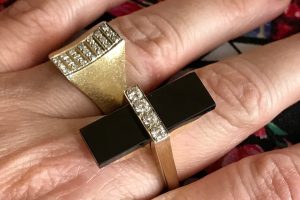 Here they are, on my hand.  Joe gave me a brief description for each of them.  One he characterized as having "real style" and when he saw the other, he immediately said "I hate it!  Get rid of it.  Choose something else."  As I am quite fond of both rings, I was a bit taken aback.  A few giggles later,  I protested.  After all, the photos were already taken…  now I leave it to you.  Which ring is which?  
Go to our Facebook page or our Instagram feed to cast your vote.
Written by Carrie Martin
Photos by Dana Jerpe