Joden Girl
Baubles, Bling, and A Collector's Things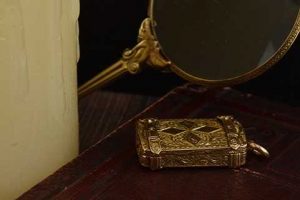 I'm a total book nerd.  It's a dangerous addiction.  As soon as the plot draws me in, I am unable to put the book down.  My surroundings dissolve, the characters become real – I am lost.  In much the same way, this charm has me completely enchanted.  This little Victorian darling combines two of my loves – books and jewelry.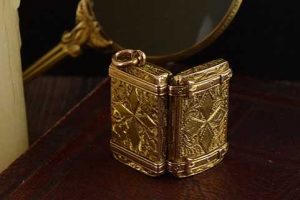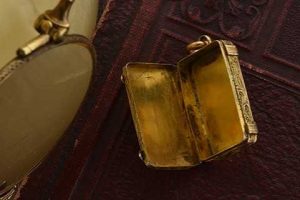 Fabricated in the late 1800's, this book locket is crafted from 14 karat yellow gold.  The outside features elaborate engraving – the pattern centers on an equal armed cross comprised of four diamond shapes.  Feathery swirls encompass the four corners while a pair of straps appear to hold it all together.  The interior is plain and open, allowing for a tiny keepsake to be saved inside…  perhaps a small photograph, a lock of hair, or even a love letter.  A perfect choice for any girl, young or old.  It can be worn on a chain around the neck or added to a charm bracelet.  Make it yours for just $595.00; available now in our Facebook store.  
You can go to a museum and look, or come to us and touch.
Written by Carrie Martin
Photos by Dana Jerpe