Joden Girl
Baubles, Bling, and A Collector's Things
Hello, lover…
This dreamboat just sailed into my day and I am completely smitten.  I would not change a single thing (except the size…  this beauty won't even go over my knuckle!  Luckily we have the hook-up for that.) Made near the end of the Art Deco era, this ring is platinum from top to bottom and is in exemplary condition.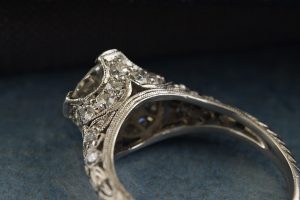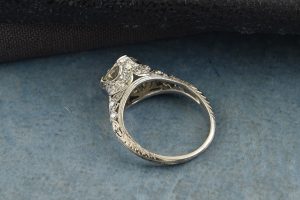 Four soft scallops arch up to create the prongs that hold the center stone.  These bar-shaped claws are unusually positioned at twelve, three, six and nine o'clock.  Each inverse arch is expertly set with single-cut diamonds.  These small sparklers continue down both sides of the ring; each one nestled within a handcrafted setting featuring milgrain edges.  Twenty-four in all, these diamonds have a combined weight of about .30 carat.  The overall feel of the design is very botanical.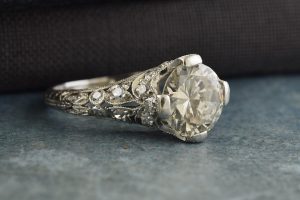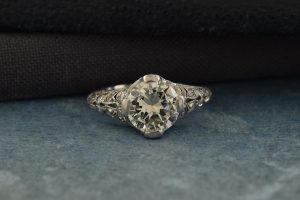 A transitional European cut, the center diamond measures approximately 1.24 carats.  It's perfectly fitted to the ring or maybe the ring is perfectly fitted to the stone.  Either way, the pairing is tough to beat.  It's moderately priced at $6,800.00.  We have many Art Deco jewels in the store.  In fact, an entire case is devoted to that period – three tiers overflowing with rings, pendants, earrings and bracelets from the 1920's and 1930's.  But not one of them is quite like this one.  Perhaps that's why this one isn't in the case.  It's in Joe's Special Box.
Written by Carrie Martin
Photos by Dana Jerpe