Joden Girl
Baubles, Bling, and A Collector's Things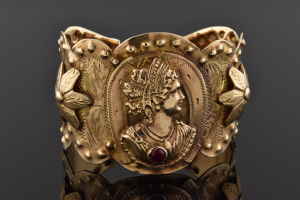 Sometimes Joe's treasures don't make it to the "special box".  Trinkets are stashed in a tiny wooden cabinet that sits on a shelf, curios and doodads are piled on ledges, and occasionally jewels are hidden in a desk drawer.  This bracelet is just one example of that…  and honestly, I didn't really know what was so unique or special about it.
Then one day, I was doing some online research – Google is my friend.  I stumbled across a near twin to our bangle as well as several other similar pieces.  This bracelet is quite rare – an example of American Gypsy Jewelry.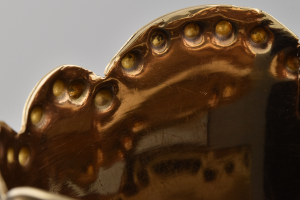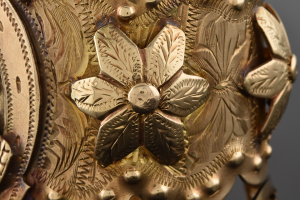 It features all the classic earmarks of Gypsy adornments…  the profile of a beautiful woman, raised star-like flowers, a bright synthetic gemstone, and a horseshoe.  Be sure to wear it with the ends of the shoe facing up… You don't want your luck to run out!  It has a clear hallmark inside "14K" – most jewelry of this type is constructed from 14 karat gold – although it's value far exceeds the gold weight.  Solid and sturdy – this is one piece of American history to be worn and enjoyed.
"You can go to a museum and look, or you can come to Joden and touch."
Written by Carrie Martin
Photos by Shelly Isacco